Harrisburg Happenings
A report on the Session Week of February 3, 2021
Dear Friend,
I am pleased to send you my Session Wrap Up e-newsletter. This e-newsletter features events and legislative activities from the Session Week of February 3, 2021.
If you find this e-newsletter useful, I invite you to visit my website www.senatorpittman.com for more information about your state government. If you do not wish to receive these e-newsletters, please click the "unsubscribe" button at the bottom of the page. If you would like to contact my office, please go to my website and click the "contact" button. Please do not "reply" directly to this e-mail.
Sincerely,
Joe
---
$912 Million COVID-19 Relief Package Sent to Governor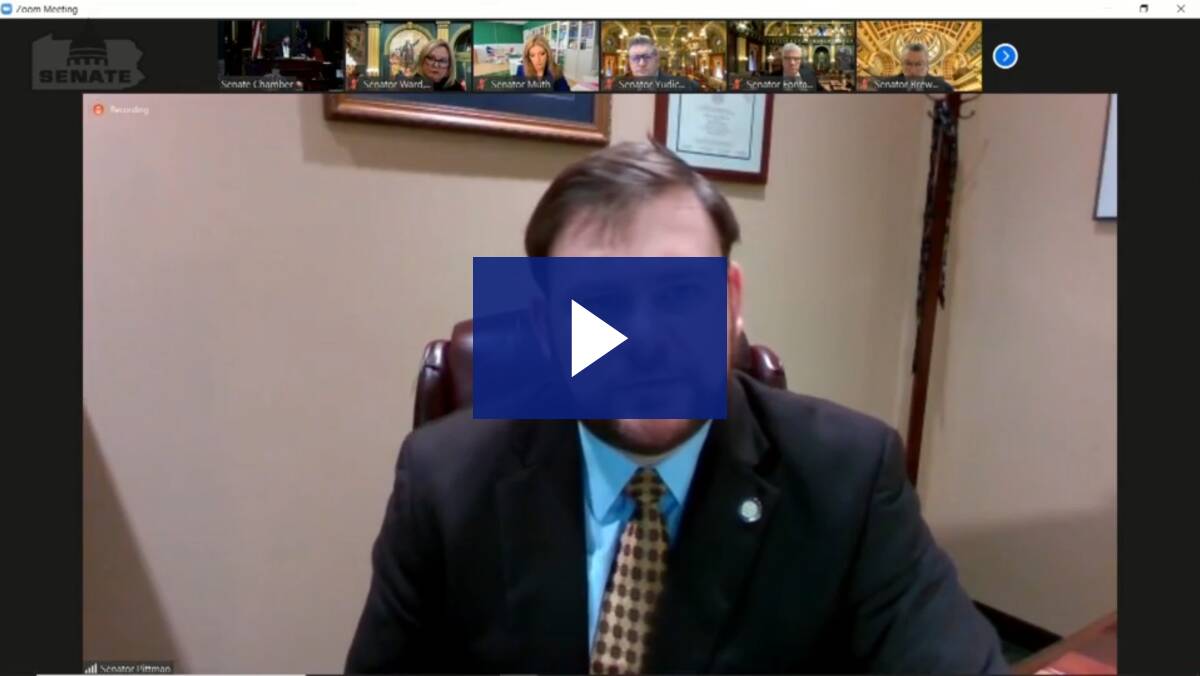 A bill I introduced that provides for a comprehensive $912 million relief package to help restaurants, schools, employers, and tenants impacted by the COVID-19 pandemic received final legislative approval on Friday and was sent to the Governor's desk.
Senate Bill 109 amends the state Fiscal Code to allocate $569.8 million for Rental and Utility Assistance, $197 million for education programs, and $145 million to support Pennsylvania's struggling hospitality industry as it copes with the devastation created by the COVID-19 pandemic and the Governor's mandated closings and restrictions.
It is worth pointing out that this is the very first bill to reach the Governor in this legislative session and should be signed into law as Act 1 of 2021. That clearly shows the importance of the measure and our efforts to bring relief to the people of Pennsylvania. While this was a contentious week in Harrisburg, it is good to see a bipartisan product being delivered to Pennsylvanians, one that not only addresses for negative impacts of COVID-19, but also provides important protections to ensure that federal stimulus support to our citizens is not subjected to taxation by the Commonwealth.
The bill would exempt income received from the federal Paycheck Protection Program and stimulus checks from taxation under the state's Personal Income Tax. The measure was approved by both the Senate and the House of Representatives this week and was sent to the Governor for enactment into law.
Click here for more information.
Governor Unveils Massive Tax & Spend Budget Proposal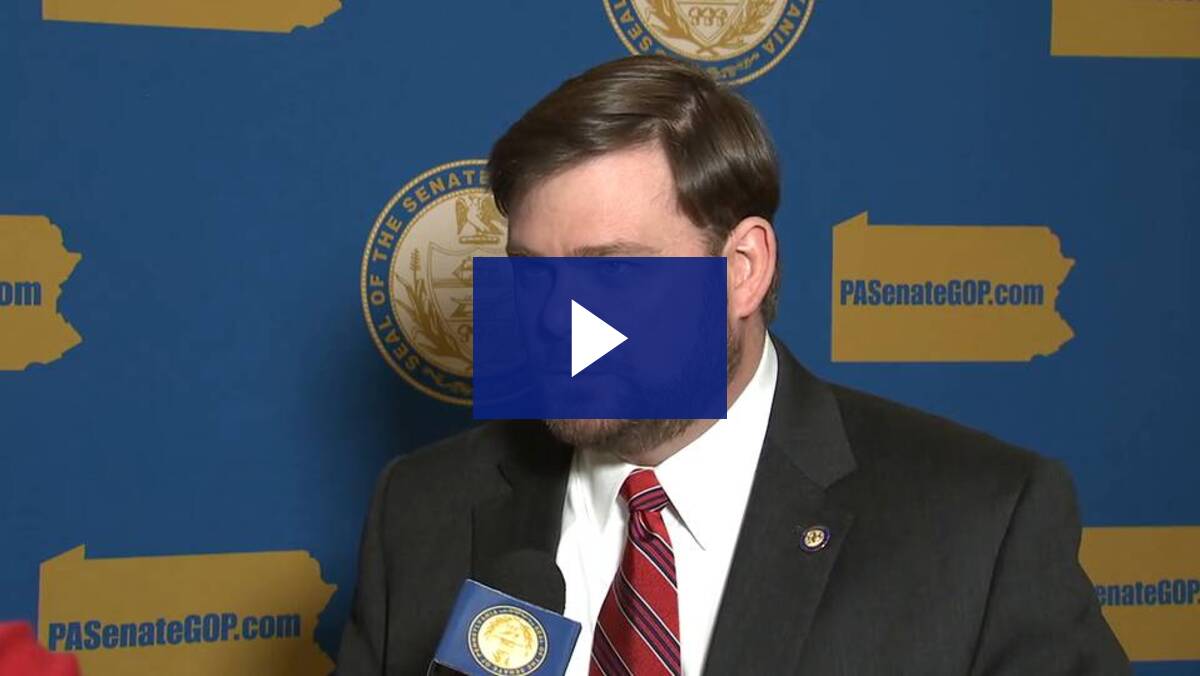 Governor Tom Wolf used a pre-taped video address on Wednesday to unveil his proposed $40.2 billion General Fund Budget for Fiscal Year 2021-22, which includes a $3.1 billion (8.2 percent) increase in state spending, a substantial Personal Income Tax rate hike from 3.07 percent to 4.49 percent (46.3 percent) and the imposition of Marcellus Shale extraction tax.
That video budget address may have been one of the most tone-deaf infomercials that I have ever heard. For the Governor to stand before us behind a TV screen and propose a massive increase in the PIT and to yet again propose a severance tax on natural gas in this economic time and climate is asinine.
I found it bitterly ironic that he stands there and talks about the need to invest in public education when his carbon tax will absolutely devastate public education in my (Senate) District. I have school districts that rely on the property tax revenues from power plants to fund their schools. He has a carbon tax that will shut them down overnight and cause those districts to be devastated.
Click here for more information.
ERE Committee Formally Opposes RGGI
The Senate Environmental Resources & Energy Committee approved a letter to the Independent Regulatory Review Commission (IRRC) on Wednesday formally opposing a Regulation to have Pennsylvania join the Regional Greenhouse Gas Initiative (RGGI).
The IRRC is an independent agency of the Commonwealth of Pennsylvania. It is responsible for the review of regulations from nearly all state agencies, boards and commissions before they go into effect.
Prior to the committee vote, I detailed my opposition to RGGI and the fact that the carbon tax it would impose would eliminate good paying jobs and devastate local families.
Click for video of the entire committee meeting. Click here for more information.
Senate Approves Bill Providing for Expert Witnesses
The Senate approved a bill on Wednesday that would amend the Judicial Code to permit the Commonwealth to call expert witnesses in cases of domestic violence and human trafficking in order to explain victim behavior. Senate Bill 81 provides for expert witnesses in cases of domestic violence and human trafficking.
The bill now goes to the House of Representatives for consideration, along with the following bills that were approved by the Senate on Friday.
Senate Bill 49, which designates a bridge in Johnstown, Cambria County, as the Reverend Andrew William Tilly, Jr., Bridge.
Senate Bill 84, which amends the County Code to state the first assistant district attorney will become the district attorney in the event of a vacancy for Class 2A through Eighth-Class counties until the next municipal election.
Senate Bill 85, which amends the Second-Class County Code to state the first assistant district attorney will become the district attorney in the event of a vacancy for Second-Class Counties until the next municipal election.
Senate Bill 86, which amends Title 53 (Municipalities Generally) to require counties under a home rule charter to follow the procedures for succession under the county codes in the event of a vacancy in the office of district attorney.
Committee Roundup
Aging & Youth/Health & Human Services
The Senate Health & Human Services Committee and the Senate Aging & Youth Committee held a joint hearing on Thursday on the state's stunted rollout of the COVID-19 vaccine. The committees heard testimony on the state vaccine distribution plan from representatives from the Pennsylvania Department of Health, hospitals, long-term care advocates and pharmacies. Video
The hearing included testimony on a wide range of issues, including delays in administering first doses after they have been allocated to the state; abrupt changes in guidance and vaccine eligibility criteria from the state; a lack of information on providers who have available doses of the vaccine, particularly for older Pennsylvanians who are not familiar with new technology; inadequate supply of vaccines from the federal government; ensuring providers adhere to guidance and provide vaccines only to eligible individuals; and expanding vaccine access to rural areas.
Agriculture & Rural Affairs
The Senate Agriculture & Rural Affairs Committee approved two bills on Wednesday. Video
Senate Bill 36 provides for license fee exemptions for service dogs used by a fire department, sheriff's office or in the performance of rescue services or medical emergency services. Currently, the fee exemption exists only for any municipal or state police department or agency.
Senate Bill 64 directs a portion of the state-allocated farmland preservation funding to be set aside annually for use by land trusts.
Rules & Executive Nominations
The Senate Rules & Executive Nominations Committee approved the House-amended version of Senate Bill 109. Video
Veterans Affairs & Emergency Preparedness
The Senate Veterans Affairs & Emergency Preparedness Committee approved two bills on Wednesday. Video
Senate Bill 96 increases the maximum donation amounts to the Veterans' Trust Fund from $3 to $5 when applying for or renewing a driver's license, ID card or vehicle registration and from $6 to $10 when applying for a two-year vehicle registration.
Senate Bill 158 provides for medals of commendations for law enforcement, fire and EMS personnel.