In this Update:
Senate Hearings on Proposed State Budget Get Underway
Additional 100,000 Older Adults Eligible for Prescription Assistance
President Biden Should Restart the Keystone XL Pipeline
IUP Receives $100,000 STEM Grant
Applications Being Accepted for Schools-to-Work Grants
Virtual Veteran Town Hall Series Set for 2022
Student Art Competition Raises Awareness About Ticks and Lyme Disease
---
Senate Hearings on Proposed State Budget Get Underway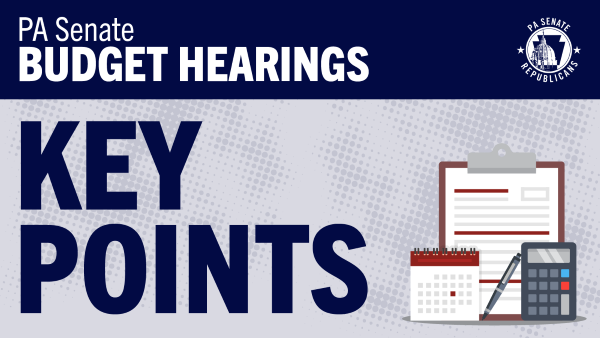 The Senate Appropriations Committee, of which I am a member, held the first of four weeks of public hearings on the proposed 2022-23 state budget.
Gov. Tom Wolf proposed a $45.7 billion budget that would increase spending by $4.5 billion. Based on projections, this will create a $1.3 billion deficit in the following fiscal year and produce a $13 billion deficit by FY 2026-27.
The administration's proposed massive spending increase relies on rosy revenue projections not supported by the Independent Fiscal Office. IFO Director Matthew Knittel testified that revenue projections could be revised downward depending on various factors including the end of the stimulus funding and actions at the federal level. During the IFO hearing, I asked about a minimum wage hike's negative impact on jobs and social services providers, as well as the governor's RGGI electricity tax, which I also brought up with Department of Revenue Secretary Dan Hassell (in addition to pressing PA Lottery officials for action against illegal gaming machines).
State Treasurer Stacy Garrity said Treasury sees the potential for sizable deficits in future years that would require tax hikes, new taxes or spending cuts to erase the deficits. She testified the governor's budget proposal contains wildly low projected spending, particularly in human services, while it builds in unrealistic revenue assumptions. I asked Treasurer Garrity about how PA's 529 plan can be used for career and technical education, and expressed my support for a healthy Rainy Day Fund.
During this past week's budget hearings, I also had the chance to speak with state Auditor General Timothy L. DeFoor, who I asked about the possibility of the unstable stock market impacting pension funds, and Acting Secretary of Corrections George Little, who I asked about the current vaccination requirement for correctional facility visitors.
You can find the hearings schedule, livestreams of budget hearings, daily recaps and video from prior hearings at PASenateGOP.com.
Additional 100,000 Older Adults Eligible for Prescription Assistance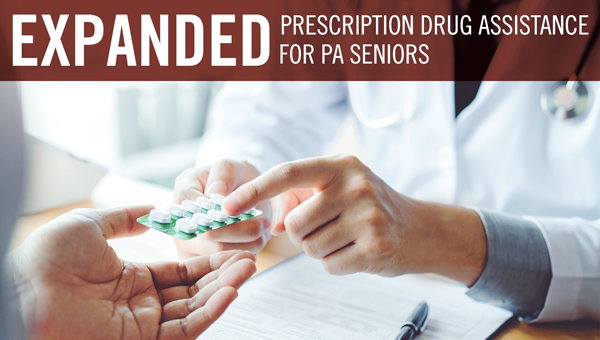 Legislation approved by the General Assembly in December expanding income eligibility limits for the Pharmaceutical Assistance Contract for the Elderly Needs Enhancement Tier (PACENET) program is now in effect.
The new law allows an additional 100,000 older adults to now become eligible to sign up for the program with enrollment beginning this month. The law expands the PACENET income limits by $6,000:
Singles: from $27,500 to $33,500
Married: from $35,500 to $41,500
The PACENET and PACE programs are funded with revenue from the Pennsylvania Lottery and provide comprehensive reimbursement coverage for prescription medications to qualified older Pennsylvanians. The program serves older Pennsylvanians 65 years of age and older, many of whom require multiple medications for several chronic conditions.
You can read more about PACE/PACENET, the latest expansion and the application process here.
President Biden Should Restart the Keystone XL Pipeline
Senator Wayne Langerholc, Jr. (R-35), Senator Gene Yaw (R-23) and I intend to introduce a resolution urging President Biden to restart the Keystone XL Pipeline.
This week, oil prices soared over $100 per barrel and currently, the United States imports over 800,000 barrels of oil per day from Russia. The unprovoked invasion of Ukraine jeopardizes the availability of this supply and casts a long shadow of uncertainty on future prices.
For too long we have been distracted from the pressing dangers throughout the world by voices whose policies have given a strategic advantage to autocrats who have no concern for human life, only their own collection of power and wealth.
The United States should pursue an all-out energy production effort to not only give our country independence from Russian-generated energy or any other energy produced by those who don't share America's interests, but also provide our allies with a supply of energy that doesn't come at the cost of the freedom of other sovereign nations.
The Keystone XL pipeline is critical to our national energy infrastructure and it's also very symbolic of a desire to secure our energy independence for not only economic interests but national security interests.
IUP Receives $100,000 STEM Grant
I am pleased to announce Indiana University of Pennsylvania (IUP) has received $100,000 from the Pennsylvania Department of Education to provide resources for kindergarten through grade 12 teachers in Indiana County area schools to assist with science, technology, engineering and mathematics (STEM) education.
The funding will be used to develop and produce STEM-focused learning kits for participating teachers from area schools. The kits will be created and produced by IUP faculty members working with local educators, and will include an age-appropriate curriculum and the resources needed to conduct the lessons.
This a wonderful collaboration between IUP staff and local educators and a great benefit to local K-12 students. You can read more about the effort in a recent Indiana Gazette article.
Applications Being Accepted for Schools-to-Work Grants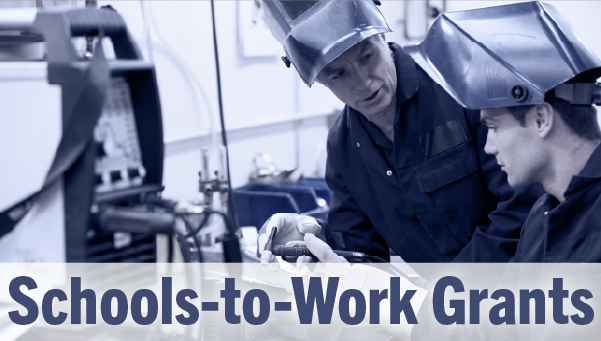 State grants are available to foster partnerships between schools, employers, organizations and associations that lead to career pathways for students. The application deadline is March 15.
Eligible applicants for the Schools-to-Work Program must be registered with the Pennsylvania Department of Labor & Industry as a pre-apprenticeship program or connected with a registered apprenticeship program. Other eligible applicants include an entity that has an established connection with a registered apprenticeship program.
Project proposals must create learning opportunities for participating students and should focus on the coordination of people and resources to help individuals on a continuous path to family-sustaining employment and career growth. The proposal must also focus on building pre-apprenticeship programs to fill current and anticipated labor market needs in the given geographical area.
Virtual Veteran Town Hall Series Set for 2022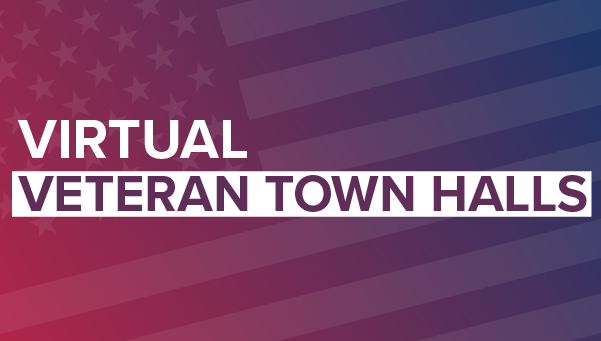 The Pennsylvania Department of Military and Veterans Affairs has announced five Virtual Veteran Town Halls to provide veterans with a convenient platform to learn and ask questions about programs and benefits earned through their military service.
March 16, 5-6:30 p.m. – Veteran Suicide Prevention
May 18, 5-6:30 p.m. – Serving Older Veterans
July 13, 5-6:30 p.m. – Resources for Homeless Veterans
Sept. 14, 5-6:30 p.m. – Transportation Issues Facing Veterans
Nov. 2, 5-6:30 p.m. – Honoring Veterans for Their Service and Sacrifice
Participants will have the opportunity to ask questions of the presenters live during a chat feature. Visit DMVA's website two weeks prior to each town hall for the link to participate.
Student Art Competition Raises Awareness About Ticks and Lyme Disease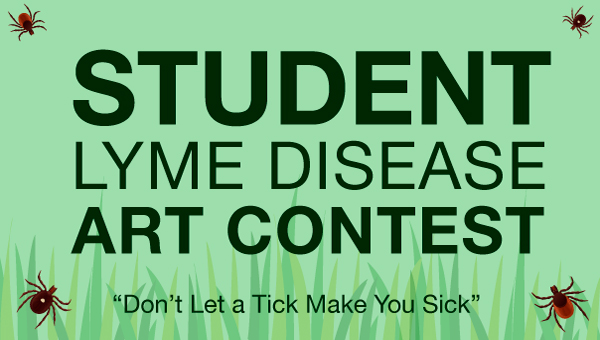 As the number of Lyme disease cases in the state and across the nation continues to rise, students can use their artistic talents to raise awareness of the prevalence of ticks and the types of diseases they carry.
The Lyme Disease Art Contest is open to children in first through sixth grade. Entries must be received by March 11. Contest materials can be found on the Pennsylvania Department of Health's website. Finalists will be notified by mail and will be invited to an award ceremony in May.
There are reports of up to 10,000 Lyme disease cases per year in Pennsylvania and more are likely unreported. Most cases of Lyme disease can be treated successfully with a short course of antibiotics. However, if the infection is left untreated, it can spread to joints, the heart and the nervous system. Ticks that cause Lyme disease are found in every county and every green space, even in cities.