Harrisburg Happenings
A report on legislative actions from the Session Week of June 10, 2019
Dear Friend,
I am pleased to send you my Session Wrap Up e-newsletter. This e-newsletter features events and legislative activities from the Session Week of June 10, 2019.
If you find this e-newsletter useful, I invite you to visit my website www.senatorpittman.com for more information about your state government. If you do not wish to receive these e-newsletters, please click the "unsubscribe" button at the bottom of the page. If you would like to contact my office, please go to my website and click the "contact" button. Please do not "reply" directly to this e-mail.
Sincerely,
Joe
---
Remembering a Dear Friend
This was truly a bittersweet week for me, my family and my staff as the pomp and ceremony of Monday's swearing in ceremony was overshadowed by the tragic death of my staffer and dear friend Brian Henry Swatt. Brian was only 21 years-old when he lost his life in a tragic accident in Armstrong County.
I spent a lot of time with Brian. He worked on my campaign for Senate, but he was much more than that. He was a team player and became a close friend. I was pleased to welcome him as the first new staff member of my Indiana District Office little more than a week ago.
His passing has deeply affected all of us and he will forever hold a special place in our hearts.
Click for a Video of a moment of silence for Brian Swatt and a Video of Senator John Blake's remarks from the Senate Floor.
Working for the People of the 41st District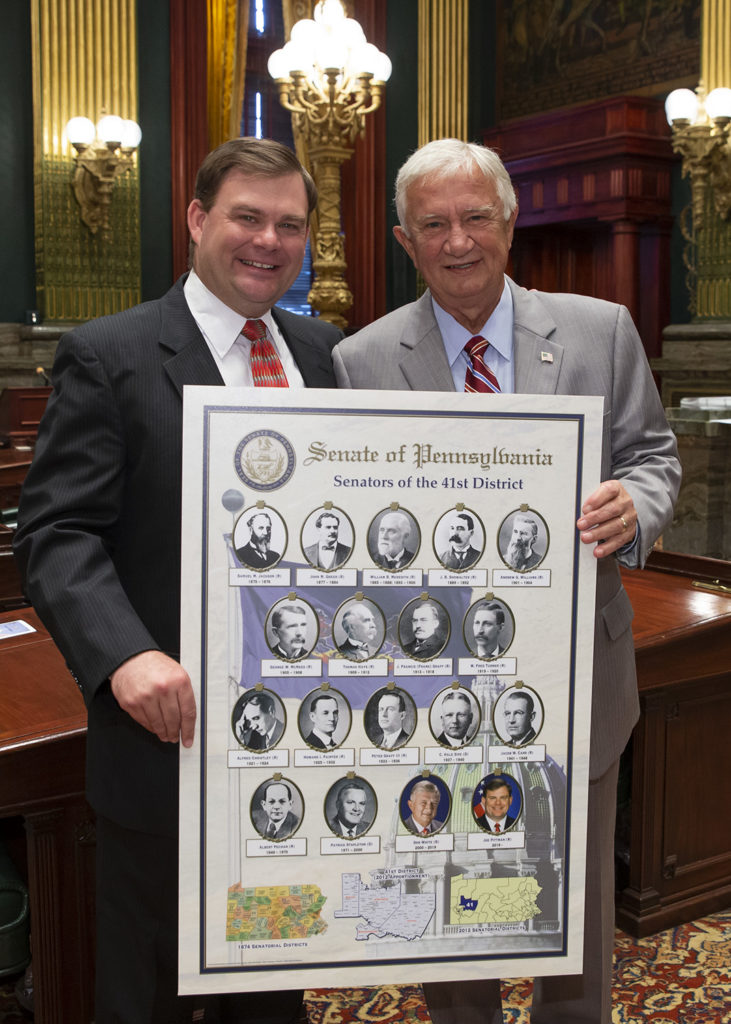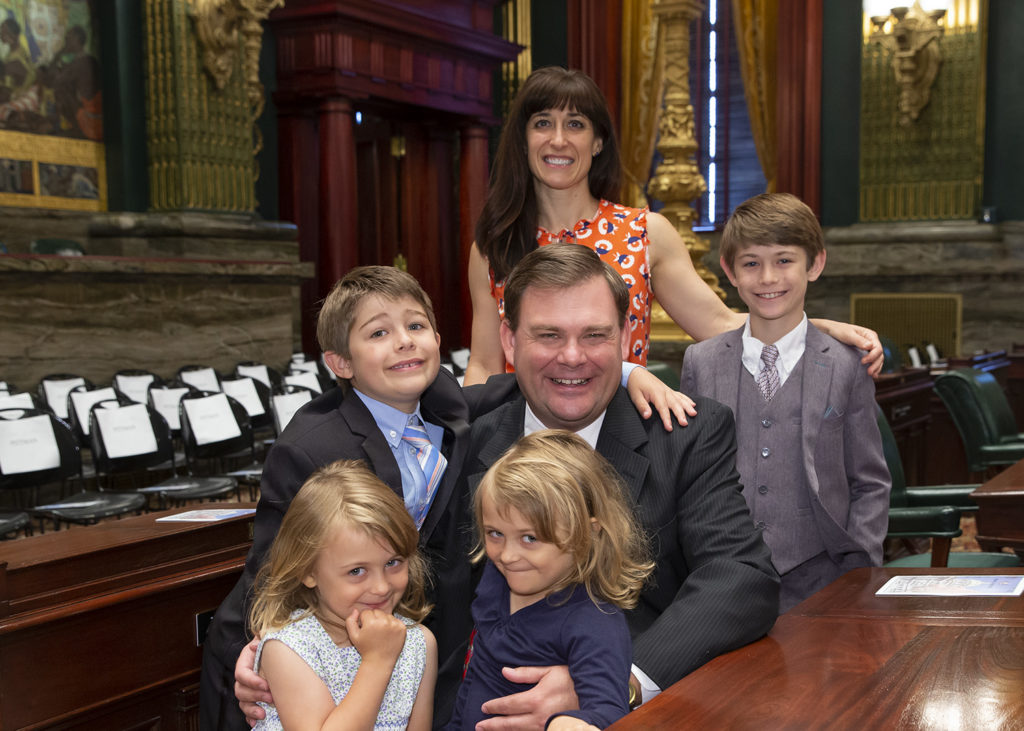 I was pleased to be joined by my family and my good friend and mentor Senator Don White on Monday for my swearing in ceremony in the Senate Chamber. We also hosted many other friends and family members who traveled to Harrisburg for the ceremony. I appreciate all of the support I have received from so many people over the past few weeks. Video
Committee Assignments Announced
With the deadline to adopt a state budget quickly approaching, I will have a seat on the powerful Senate Appropriations Committee that will play a key role in approving the spending plan. Audio
Senate President Pro Tempore Joe Scarnati (R-25) this week appointed me to serve as a member of the Committee, which is tasked with reviewing all legislation for its fiscal impact. The Appropriations Committee also plays a crucial role in developing the state budget by June 30 each year.
I look forward to working on the budget and ensuring that it meets the needs of the state in a responsible manner. We are fortunate in that we currently have a revenue surplus, but we must exercise prudence in how we use it. We must prepare for the next 'rainy day' that will inevitably occur. Video
In a statement, Senate Appropriations Committee Chairman Pat Browne welcomed me to his committee.
"As Chairman of the Senate Appropriations Committee, I look forward to working with Senator Pittman as our committee focuses on budget related legislation and bills which have a fiscal impact on the Commonwealth," Senator Browne said. "Senator Pittman's knowledge of state government and the state's finances from his work as Chief-of-Staff for former-Senator Don White will make him a valuable addition to the committee."
In addition to the Appropriations Committee, Senator Scarnati appointed me to serve as Vice Chairman of the Environmental Resources & Energy Committee and as a member of four additional committees: Banking & Insurance, Communications & Technology, Game & Fisheries, and Judiciary.
These are all great committee assignments. Environmental Resources & Energy is especially important since it reviews legislation and policies that impact the coal, electric and shale gas industries. Those measures have a significant impact on many families across the 41st District.
Senate Passes School Safety and Security Measure
The Senate approved a measure on Tuesday that addresses two issues raised since the passage of the comprehensive School Safety and Security Law (Act 44) last year.
School districts across the Commonwealth found themselves out of compliance because sheriffs and deputy sheriffs were omitted from the definition of "School Resource Officer." This was followed by the Department of Education issuing its own interpretation of Act 44 claiming security guards did not have the authority to carry firearms. In addition to correcting the oversight pertaining to sheriffs and deputy sheriffs, Senate Bill 621 provides direct authority for school security guards to be armed.
The legislation establishes a baseline of training for all school security personnel – whether armed or not – to ensure that school police officers, resource officers, and security guards are qualified to work in a school setting and around students.
Senate Bill 621 now heads to the House of Representatives for consideration. Other bills sent to the House this week include:
Senate Bill 314, which creates the Pennsylvania Rural Health Redesign Center Authority and the Pennsylvania Rural Health Redesign Center Fund.
Senate Bill 543, which provides a rate increase for the River Pilots who navigate trade vessels along the Delaware River and its navigable tributaries.
Senate Bill 593, which designates a bridge on Interstate 79 northbound over West 16th Street in Erie as the Thomas J. Kennedy, Jr. Memorial Bridge.
Senate Bill 633, which provides the Governor with the power to declare public health emergencies.
Senate Bill 695, which reauthorizes certain provisions of the Human Services Code before they sunset on June 30, 2019.
Senate Bill 698, which amends the Medical Practice Act to let physicians use a designee to input information about written agreements into the Department of State's new online PALS licensing system.
Senate Bill 699, which amends the Osteopathic Practice Act to let physicians use a designee to input information about written agreements into the Department of State's new online PALS licensing system.
Senate Bill 700, which implements recommendations from the Public School Building Construction and Reconstruction (PlanCon) Advisory Committee.
Senate Bill 701, which provides for the conveyance of the former Allentown State Hospital property.
Senate Bill 703, which addresses the promulgation of regulations by joint committees.
Senate Bill 712, which extends the authority of the State Treasurer to invest funds according to the prudent person investment standard until 2024.
School Choice Scholarship Expansion Bill Sent to the Governor
Legislation expanding educational opportunities for students in failing schools received final legislative approval on Tuesday and was sent to the Governor for enactment into law. House Bill 800 would expand Pennsylvania's Educational Improvement Tax Credit (EITC) program with $100 million in additional tax credits for scholarship organizations.
Three additional bills received final legislative approval this week and were sent to the Governor's desk.
Senate Bill 43 designates a portion of Route 30 in Westmoreland County, as the J. Edward "Hutch" Hutchinson Memorial Bypass.
House Bill 223 conveys land in Asylum Township, Bradford County, to French Azilum, Inc.
House Bill 619 establishes June 19 as "Juneteenth National Freedom Day."
Senate Passes Bill Authorizing Full Practice Authority for Nurse Practitioners
The Senate approved legislation on Wednesday that would give full practice authority to Advanced Practice Registered Nurses-Certified Nurse Practitioners (APRN-CNPs).
Senate Bill 25 would allow APRN-CNPs to practice independent of a physician after they fulfill a three-year, 3,600-hour collaboration agreement with a physician. Current law requires nurse practitioners to practice under a collaboration agreement at all times.
The bill is intended to make healthcare services more available and affordable to all Pennsylvanians, especially in rural areas where the needs are greatest. Senate Bill 25 now goes to the House of Representatives for consideration.