Harrisburg Happenings
A report on legislative actions from the Session Week of June 22, 2020
Dear Friend,
I am pleased to send you my Session Wrap Up e-newsletter. This e-newsletter features events and legislative activities from the Session Week of June 22, 2020.
If you find this e-newsletter useful, I invite you to visit my website www.senatorpittman.com for more information about your state government. If you do not wish to receive these e-newsletters, please click the "unsubscribe" button at the bottom of the page. If you would like to contact my office, please go to my website and click the "contact" button. Please do not "reply" directly to this e-mail.
Sincerely,
Joe
---
Senate Committee Reviews Governor's RGGI Proposal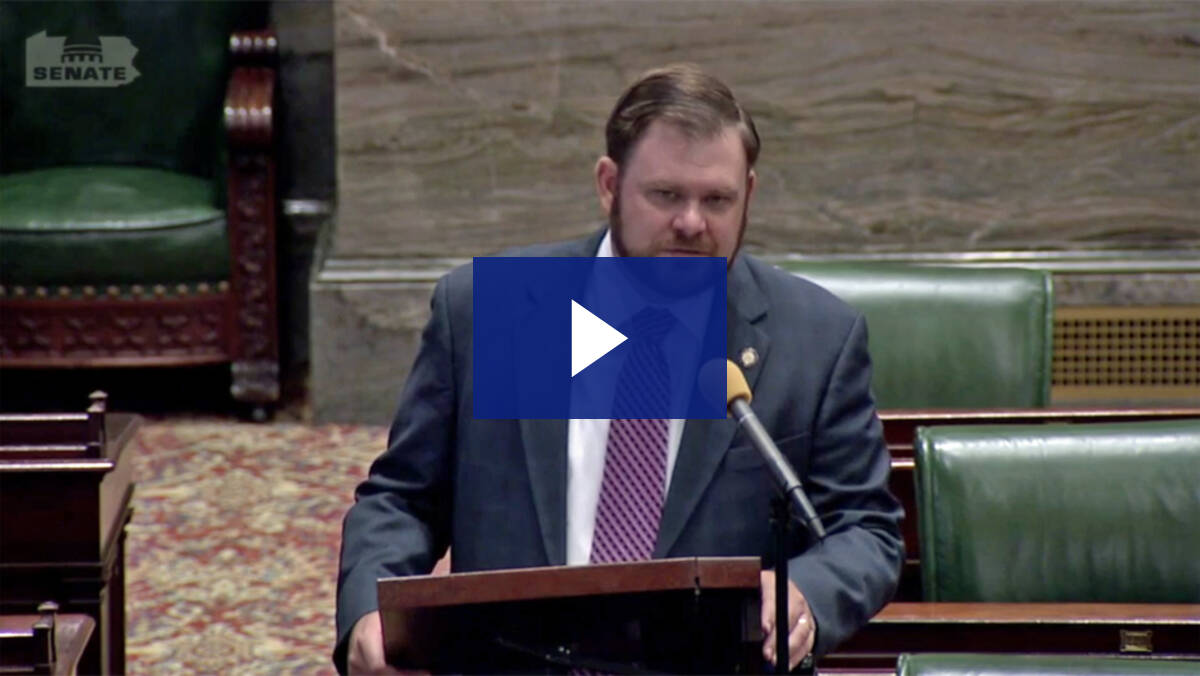 The Senate Environmental Resources and Energy Committee held a hearing on Tuesday to examine the Governor's proposal that Pennsylvania join the Regional Greenhouse Gas Initiative (RGGI). Information about the hearing, including the agenda and witness testimony is available on the Committee's website, https://environmental.pasenategop.com/.
Last October, Governor Wolf directed the Pennsylvania Department of Environmental Protection to join RGGI, a collaboration of nine Northeast and Mid-Atlantic states. The states (Connecticut, Delaware, Maine, Maryland, Massachusetts, New Hampshire, New York, Rhode Island, and Vermont) set a cap on total Carbon Dioxide (CO2) emissions from electric power generators in their states. In order to comply, power plants must purchase a credit or "allowance" for each ton of CO2 they emit.
The RGGI could have severe consequences in the state beyond impacting the viability of Pennsylvania's 19 coal-fired electric generating units (EGU) – nearly one-quarter of the Commonwealth's total electric generation capacity.
If they were forced out of business the burden of a carbon tax on power generation would be paid entirely by Pennsylvania's natural gas-fired EGUs. That would likely make them less competitive with comparable plants in neighboring states and as such drive investment in natural gas electric generation to other states.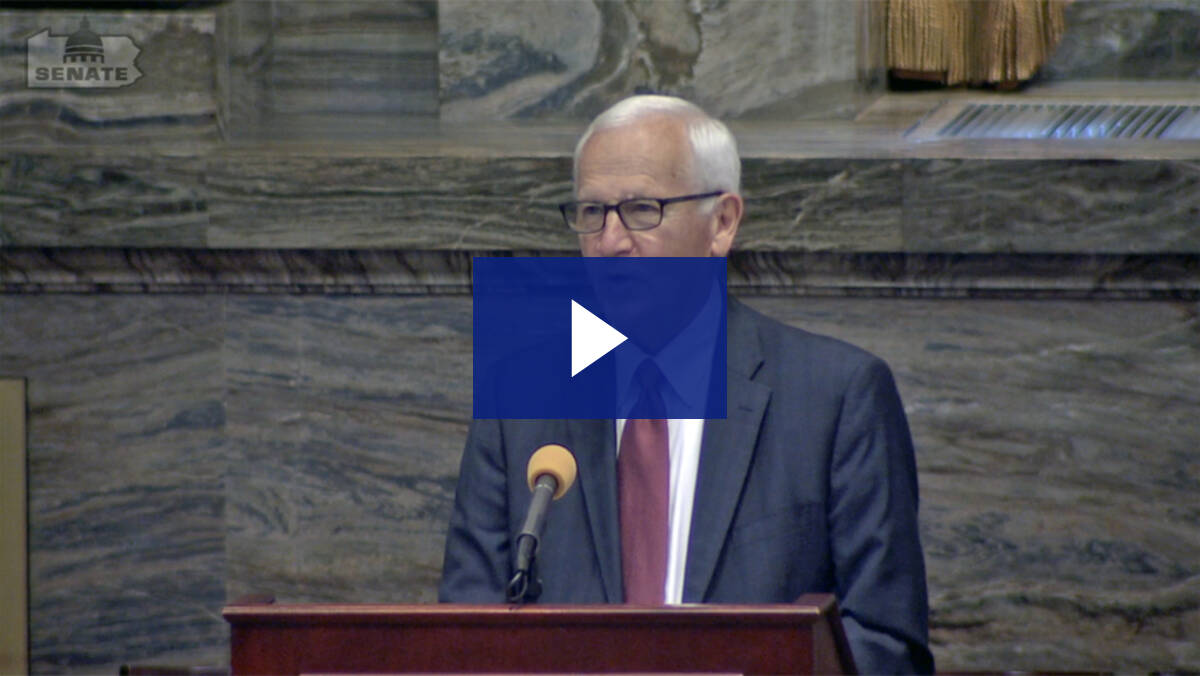 PASSHE Reform Bill Sent to Governor
Legislation to reform and protect the future of the Pennsylvania State System of Higher Education (PASSHE), which includes Indiana University of Pennsylvania, received final legislative approval Wednesday and was sent to the Governor.
Many PASSHE schools were facing considerable financial and enrollment pressures even before the COVID-19 pandemic, and these problems have been made worse by the temporary closing of all 14 system schools due to concerns about student health.
House Bill 2171 would assist PASSHE's efforts to redesign its system in the wake of these challenges. The bill gives the PASSHE Board of Governors the power to create, expand, consolidate, transfer or affiliate member schools.
The Chancellor of PASSHE would be required to conduct a thorough review of an institution and prepare a detailed implementation plan for any changes to system schools. This includes holding at least two public hearings, consulting with faculty and other stakeholders, opening a public comment period and reporting quarterly to the General Assembly.
The bill would also require shared services among all member universities when the system can show savings and efficiencies, unless member schools opt out by a two-thirds vote of the Council of Trustees.
The goal of the legislation is to promote the long-term viability of all schools in the system, protect access to an affordable education for Pennsylvania students, and ensure any changes to the system are completed with full transparency and accountability.
Bills Protecting Healthcare Workers Sent to Governor
A measure to extend new protections to members of the healthcare community by increasing the penalty for an assault on a healthcare practitioner received final legislative approval this week and is headed to the Governor's desk.
Existing state law already provides stiffer penalties for assaults against EMS personnel, including doctors, residents, nurses, paramedics and other members of the healthcare community. Senate Bill 351 extends the same protections to a broader range of healthcare practitioners, including social workers, pharmacists, audiologists, physical therapists, occupational therapists, athletic trainers, dietitian-nutritionists, massage therapists, optometrists, podiatrists, physician assistants and respiratory therapists.
A number of healthcare technicians are also covered by the bill, such as cardiac device specialists, diagnostic medical sonographers, cardiac sonographers, exercise physiologists, vascular technologists, pharmacy technicians and physical therapy aides.
Also receiving final approval this week was Senate Bill 842, which eliminates a state requirement for photo identification badges in healthcare facilities to include the employee's last name. In the past, dangerous individuals have used this information to harass and assault healthcare practitioners both inside and outside the workplace.
Other bills sent to the Governor this week include:
House Bill 364, which allows school vehicles to be equipped with one yellow flashing and revolving light.
Senate Bill 595, which provides insurance coverage for breast density screenings.
Senate Bill 637, which creates a set of rules for consideration of criminal records in occupational licensure.
Senate Bill 905, which is the Capital Budget Project Itemization Act for Fiscal Year 2019-20.
House Bill 1379, which repeals the Sunday Polo Act of 1935.
House Bill 1405, which repeals the Sunday Tennis Act of 1935.
House Bill 1457, which provides clarity regarding insurance coverage for custom breast prosthetics.
House Bill 1510, which renames several bridges and highways.
House Bill 1564, which allows notaries to notarize documents electronically, allows local governments to conduct business through telecommunications, and establishes a new procedure to value manufactured homes.
House Bill 1597, which renames road and bridges.
House Bill 1710, which creates the USA semiquincentennial license plate.
House Bill 2018, which conveys property in Plymouth, Luzerne County.
House Bill 2418, which provides for COVID-19 debt cost reduction review.
Game, Fish and Boat Commission Bills Sent to Governor
The Senate approved a Game Commission bill and three Fish & Boat Commission bills this week. The bills are now headed to the Governor's desk.
House Bill 808 authorizes the Fish and Boat Commission to establish the fees for fishing and boating licenses and permits by regulatory action and expands the allowable uses for Lake Erie fishing permit revenues.
House Bill 1003 empowers the Fish and Boat Commission to issue citations for failure to mark head or run-of-the-river dams.
House Bill 1185 increases and clarifies penalties relating to damage to Fish & Boat Commission property; littering; boating education; boating under the influence; and aggravated assault by watercraft.
House Bill 1188 allows the Game Commission to permit the use of infrared, thermal and similar night vision optics for hunting.
Senate Approves Bills for Veterans
The Senate passed two bills this week to recognize and assist Pennsylvania's veterans.
Senate Bill 532 designates March 6 as Persian Gulf War Veterans Day and October 7 as Global War on Terrorism Veterans Day.
Senate Bill 957 directs the Department of Military & Veterans Affairs to create logos to promote veteran-owned businesses.
The bills now go to the House of Representatives for consideration.
Other bills approved by the Senate and sent to the House this week include:
Senate Bill 331, which creates three grants of $150,000 to be distributed to three community colleges or State System of Higher Education universities to establish fire training programs for high school students.
Senate Bill 459, which requires municipal law enforcement departments to adopt use of force policies.
Senate Bill 655, which authorizes Pennsylvania to join the Nurse Licensure Compact.
Senate Bill 997 clarifies military service credit for retirement purposes for Pennsylvania State Police members.
Senate Bill 1188, which clarifies the intent and interpretation of taxation methodologies and collections under Act 511 of 1965.
Senate Bill 1205, which bans the use of chokeholds and positional asphyxia by those in law enforcement.
Senate Bill 1214, which conveys to the Schuylkill County Municipal Authority an easement at the State Correctional Institution Mahanoy in Mahanoy Township.
Committee Roundup
Agriculture & Rural Affairs
The Senate Agriculture & Rural Affairs Committee approved five bills on Tuesday.
House Bill 441 amends the Agricultural Area Security Law to provide for wind power generation systems on preserved farmland.
Senate Bill 881 directs a portion of state farmland preservation funding be set aside for use by land trusts.
Senate Bill 1089 repeals Act 215 of 1965, the Frozen Dessert Law.
Senate Bill 1182 ensures the distribution of funding from the PA Fair Fund to eligible fairs that have to cancel this year's events due to COVID-19.
House Bill 2435 establishes the Food Establishment Pandemic Disease Remediation Cost Reimbursement Grant Program under the Department of Agriculture.
Appropriations
In addition to Senate Bill 655, House Bill 808, House Bill 1003, House Bill 1185, Senate Bill 1188, House Bill 1188, House Bill 1710 and House Bill 2418, the Senate Appropriations Committee approved four bills on Monday.
Senate Bill 85 provides license fee exemptions for service dogs used by a fire department, sheriff's office or in the performance of rescue services or medical emergency services.
House Bill 1325 provides for an evaluation for a gambling disorder for individuals who are charged with criminal trespass and violate the Pennsylvania Gaming Control Board self-exclusion list.
House Bill 1538 requires sexually violent predators to wait three years before re-applying for parole.
House Bill 1796 amends the First Class City Business Tax Reform Act of 1984 to provide for the definition of net operating loss.
In addition to House Bill 364, House Bill 1457 and House Bill 1564, the Appropriations Committee approved three bills on Tuesday.
Senate Bill 1193 addresses funding for sheriff and deputy sheriff education and training.
Senate Bill 1199 establishes rules for the use of personal delivery devices.
House Bill 1860 amends the Urban Redevelopment Law to allow municipalities of any population and type to create a redevelopment authority.
In addition to Senate Bill 459, Senate Bill 1205 and House Bill 2171, the Appropriations Committee approved four bills on Wednesday.
Senate Bill 273 removes the cap on funds which can be obtained by federally qualified health centers.
House Bill 732 exempts volunteer first responders from the Pennsylvania realty transfer tax.
House Bill 943 creates the Consumer Prescription Drug Pricing and Freedom Disclosure Act to stop pharmacy benefit managers from barring pharmacies from informing customers when they can save money on a drug by paying with cash instead of using health insurance.
House Bill 2487 freezes the annual cost of living adjustment for judges, members of the General Assembly, elected officers of the Commonwealth and Executive department heads for the annual periods beginning either Dec. 1, 2020 or Jan. 1, 2021.
Communications & Technology
The Senate Communications & Technology Committee approved three bills on Monday.
Senate Bill 835 dedicates state funding for broadband accessibility.
Senate Bill 1118 allows electric cooperative corporations to utilize existing utility poles for broadband fiber lines.
House Bill 2438 provides for broadband services over existing easements and existing infrastructure.
Education
In addition to House Bill 2171, the Senate Education Committee approved Senate Bill 1216 on Monday. The bill provides for temporary teacher certification.
Finance
The Senate Finance Committee approved four bills on Tuesday.
Senate Bill 875 provides a sales tax exemption for firefighters when purchasing protective equipment and accessory communications equipment using personal funds.
Senate Bill 1180 provides for a volunteer firefighter tax credit of up to $500 for those with at least two full years of service and who have responded to at least 20 percent of their company's emergency calls.
House Bill 1437 amends the Tax Reform Code to provide revisions to the Rural Jobs and Investment Tax Credit.
House Bill 2484 allows non-profits and charitable trusts to annually designate up to 10 percent of the total value of the trust or assets held as spendable income and provide for non-judicial settlement agreements.
Health & Human Services
The Senate Health & Human Services Committee approved four bills on Tuesday.
House Bill 672 amends state law regarding consent for mental health services for minors from 14 to 18 years old.
Senate Bill 890 creates a new category under Medical Assistance for Workers with Disabilities.
House Bill 1880 removes the requirement for last names to be displayed on health care employees' identification badges.
House Bill 2455 amends the Administrative Code to provide for local health department COVID-19 antibody testing.
Judiciary
The Senate Judiciary Committee approved six bills on Wednesday.
Senate Bill 14 updates probation policies.
House Bill 256 addresses assaults by prisoners.
Senate Bill 1158 addresses the release of prisoners during a disaster.
Senate Bill 1204 provides for special provisions in adoption cases where the child was conceived as a result of rape or incest.
House Bill 1855 restricts the release on parole of those convicted of a violent offense committed while incarcerated.
House Bill 1984 provides for special provisions in adoption cases where the child was conceived as a result of rape or incest.
Law & Justice
The Senate Law & Justice Committee approved Senate Bill 459 and Senate Bill 1205 on Monday.
The Law & Justice Committee approved two bills on Wednesday.
House Bill 1841 requires thorough background reporting and investigations for prospective law enforcement applicants.
House Bill 1910 updates training course contents related to the Judicial Code and the Municipal Police Officers Education and Training Act.
Rules & Executive Nominations
The Senate Rules & Executive Nominations Committee approved two Resolutions on Tuesday. The Resolutions were adopted by the Senate on Wednesday.
Senate Resolution 333 designates June 2020 as "Cancer Survivors Recognition Month."
Senate Resolution 336 designates June 19, 2020, as "Juneteenth National Freedom Day."
In addition to Senate Bill 595 and Senate Bill 637, the Rules & Executive Nominations Committee approved two bills on Wednesday.
Senate Bill 352 provides local taxing authorities with the option to designate deteriorated areas within their communities and offer an incentive to developers and property owners who are approved to rebuild or improve the blighted property.
Senate Bill 934 amends the Human Services Code to require family daycare homes have a smoke detector on each floor and in the basement, as well as a portable fire extinguisher, and meet occupancy and licensing requirements.
State Government
In addition to Senate Bill 1214 and House Bill 2487, the Senate State Government Committee approved four bills on Monday.
Senate Bill 42 requires the POW-MIA flag to be flown alongside the American and state flags on property owned or under the control of the state.
House Bill 86 requires the POW-MIA flag to be flown alongside the American and state flags on property owned or under the control of the state.
Senate Bill 395 requires the POW-MIA flag to be flown alongside the American and state flags at welcome centers, rest stops and service plazas along the Pennsylvania Turnpike.
House Bill 2370 permits electronic notarization of documents.
Transportation
In addition to Senate Bill 1199, the Senate Transportation Committee approved Senate Bill 1220 on Monday. The bill requires the Pennsylvania Turnpike Commission to keep toll collectors through the remainder of the collective bargaining agreement date of October 2021.
Veterans Affairs & Emergency Preparedness
The Senate Veterans Affairs & Emergency Preparedness Committee approved House Bill 1459 on Monday. The bill creates a mental wellness and stress management program for emergency responders.