Even as State Senator Joe Pittman was formally sworn into office today (June 10) during a ceremony in the Senate Chamber of the Pennsylvania State Capitol in Harrisburg, the celebration was subdued as he mourned the passing of a member of his staff who died in a tragic traffic accident on Friday (June 7).
Brian Henry Swatt, an Indiana University of Pennsylvania student and recent addition to Senator Pittman's Indiana District Office staff, died after his car went over an embankment at the intersection of Route 268 (East Brady Road) and Butler Road in East Franklin Township, Armstrong County.
"It's very overwhelming to be given the faith of the people to serve them," said Senator Pittman. "Today is a very emotional day for a lot of reasons. The 41st Senatorial District elected a team ready to fight for them. Over the weekend we lost a critical member of our team whom we loved and respected. We are shaken and hurting, but committed more than ever to fight for our District and Brian Henry Swatt will be with us every step of the way." Video Audio
Born and raised in Hillsdale, Indiana County, by his parents John and Mary Ann (Yevchak), Senator Pittman was elected in a May 21 special election to complete the unexpired term of Senator Don White, who retired on February 28 after 18 years of service.
Senator Pittman served as White's Chief of Staff throughout his tenure in office. In that role, he developed strong working relationships with members of the General Assembly, legislative staff and officials across a number of state agencies. He also worked closely with county and local governments and civic organizations to foster and promote economic development and infrastructure improvement efforts to enhance the quality of life for the region.
Senate President Pro Tempore Joe Scarnati (R-25) and Senate Majority Leader Jake Corman (R-34) welcomed Senator Pittman, saying his experience makes him a valued new member of the Chamber.
"I'm confident that Senator Pittman will represent his district in the same way as his predecessor Senator Don White, with dignity, humility and good old fashioned common sense," said Senator Scarnati. "As a result of his years of service to the district, Senator Pittman knows the issues, understands the challenges and is immensely qualified to take on this new role."
"Because of his in-depth knowledge of state government and the district he represents, Senator Pittman will be able to hit the ground running and serve his constituents effectively," said Senator Corman. "I'm confident he will fill the shoes of his mentor and a distinguished public official, Senator Don White, from who Joe has learned so much."
Senator Pittman said that his first efforts in office will be working to ensure the passage of a responsible state budget for the upcoming fiscal year.
"I think our priorities have to be addressing the real issues that real people face," Senator Pittman said. "First and foremost is our budget. The most important thing that we as a legislature do is adopt a budget. Constitutionally, we are supposed to adopt the budget by June 30. We do have a revenue surplus. We have to be very wise in how we use it. We have to make sure that we prepare for the next 'rainy day' that will inevitably occur."
Senator Pittman stressed that regulatory reform is also one of his top priorities.
"We have to promote policies that encourage economic growth and development. We have to cut regulations. People are tired of the government putting its nose in their business. We must work on regulatory reform. We have to make sure this budget is something that makes sense and give the taxpayers what they expect out of their state government." Video Audio
A 1995 graduate of Purchase Line High School, Senator Pittman was appointed to its school board and served until his graduation from Penn State University with a Bachelor's Degree in Political Science in December 1998.
Senator Pittman is a life member of the NRA, member of the Indiana County Republican Committee, Ford City Sportsmen's Association and the Indiana-Franklin Lodge #313.
He serves on the Purchase Line Red Dragon Foundation, which provides scholarships to Purchase Line graduates. He is a board member of the United Way of Indiana and chaired its 2018 annual campaign, helping to raise over $726,000 to benefit various community-based programs.
Senator Pittman and his wife Gina (DiMaio) have four children: Joe Jr., Sam and twin girls Rosie and Frannie. They are members of the St. Thomas More University Parish in Indiana.
The 41st Senatorial District includes all of Armstrong and Indiana counties; part of Butler County (Allegheny, Buffalo, Clearfield, Clinton, Concord, Donegal, Fairview, Jefferson, Middlesex, Oakland, Parker, Summit, Venango, Washington and Winfield townships and the boroughs of Bruin, Cherry Valley, Chicora, East Butler, Eau Claire, Fairview, Karns City, Petrolia and Saxonburg) and part of Westmoreland county (Bell, Loyalhanna, Upper Burrell and Washington townships and the boroughs of Avonmore, Export, Murrysville and Oklahoma).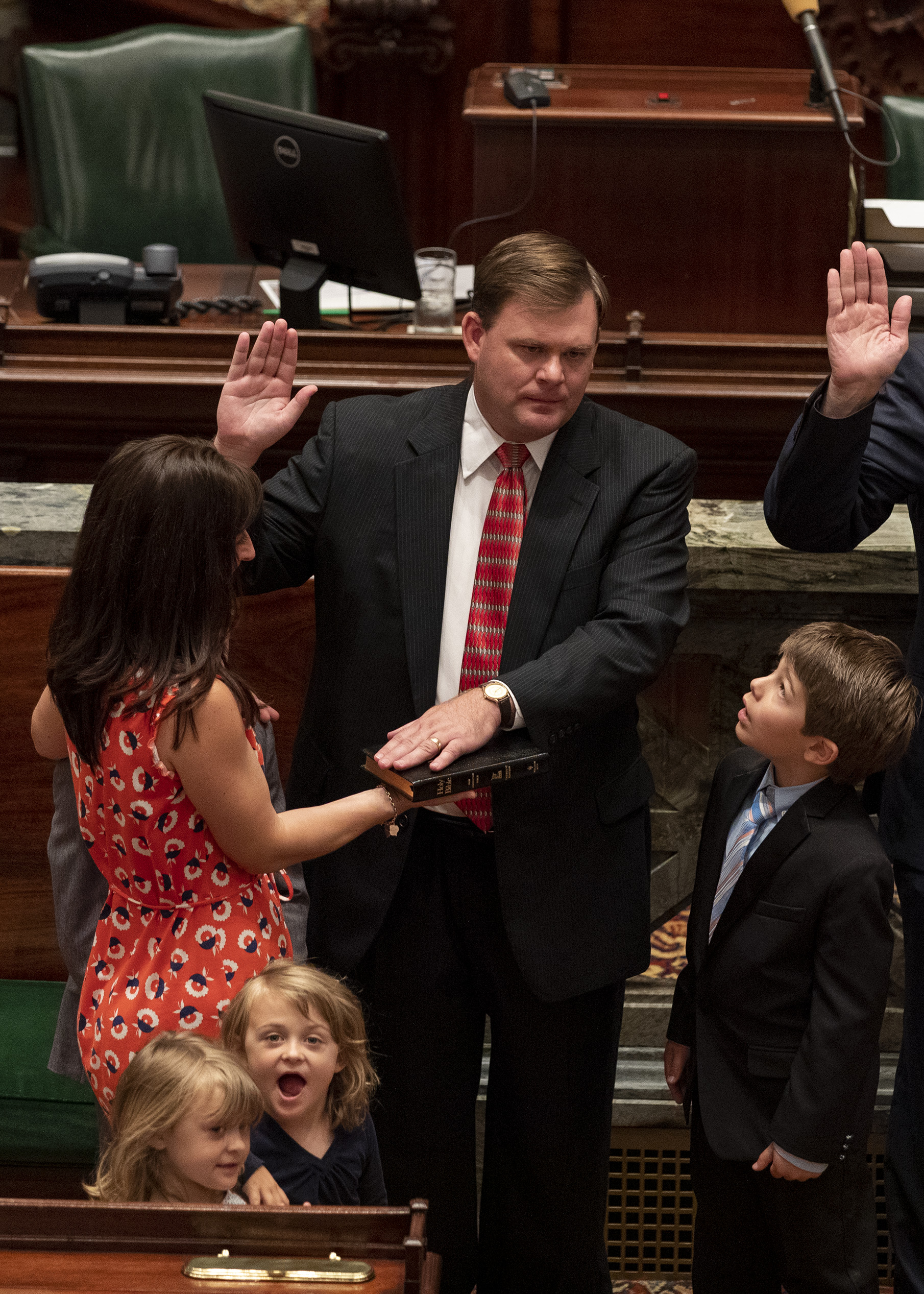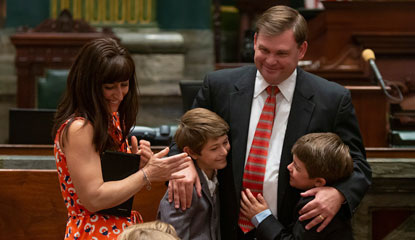 Contact: Carlton Logue clogue@pasen.gov
Note to news directors: Broadcast quality video of the swearing-in ceremony is available, contact Greg Milligan at (717) 705-2936 or gmilligan@pasen.gov for more information.