Senators Joe Pittman (R-41), Gene Yaw (R-23) and David G. Argall (R-29) and other legislators today (November 19) unveiled and discussed bills that will be introduced in the Senate and House of Representatives addressing Governor Wolf's proposal to have Pennsylvania enter into the Regional Greenhouse Gas Initiative (RGGI).
On October 3, Governor Wolf directed the Pennsylvania Department of Environmental Protection (DEP) to join RGGI, a collaboration of nine Northeast and Mid-Atlantic states. The states (Connecticut, Delaware, Maine, Maryland, Massachusetts, New Hampshire, New York, Rhode Island, and Vermont) set a cap on total Carbon Dioxide (CO2) emissions from electric power generators in their states. In order to comply, power plants must purchase a credit or "allowance" for each ton of CO2 they emit. The most recent RGGI auction (September 4) resulted in a "Carbon Tax" of $5.20 per ton.
"While the debate about climate change needs to be taken seriously, this effort has much more to do with the authority vested in the General Assembly and accommodating the Governor's desired request for a collaborative process in deciding whether we move forward in joining RGGI," said Senator Pittman, prime sponsor of Senate Bill 950. "The legislative process we are beginning today meets Governor Wolf's oft stated desire to have a 'government that works.'"
Representative Jim Struzzi is introducing the bill in the House of Representatives as House Bill 2025.
The bills focus on three main points:
Declares the legislature does not believe the Governor has the ability to unilaterally enter RGGI.
Codifies a process that allows the Department of Environmental Protection (DEP) to move forward with RGGI, which includes a public comment period, public hearings, and requires the DEP to submit their proposal to the General Assembly.
Requires legislative approval before the DEP can formally enter RGGI.
Senator Yaw, Chairman of the Senate Environmental Resources and Energy Committee, stressed that the Legislature must be an active participant in the process.
"The state legislature must be involved in any dialogue that would seek to impose a carbon tax, or similar tax, on in-state employers and citizens," said Senator Yaw. "The Governor has unilaterally chosen a path forward to entering RGGI, and I have said before there remains a large number of unanswered questions as to what participating in RGGI would entail for the citizens of Pennsylvania. I remain leery in entering into any consortium with New York, New Jersey and Maryland who thumb their nose at Pennsylvania energy and embrace energy from foreign markets."
Senator Argall, Chairman of the Senate Majority Policy Committee, raised concerns about the impact of the Governor's executive order.
"If the Governor insists on his plan, he will destroy the state's struggling coal refuse industry. It is particularly disappointing in light of the fact that he previously supported federal plans to help these plants improve our local environment. Now he wants to put them out of business," said Senator Argall, Chairman of the Senate Majority Policy Committee. "I recently asked the residents of Schuylkill and Berks Counties their opinions on the Governor's executive order to unilaterally tax carbon through one of my monthly polls. Eighty percent of respondents said that they opposed the Governor's executive order."
The RGGI could have severe consequences in the state beyond impacting the viability of Pennsylvania's 19 coal-fired electric generating units (EGU) – nearly one-quarter of the Commonwealth's total electric generation capacity.
If they were forced out of business the burden of a carbon tax on power generation would be paid entirely by Pennsylvania's natural gas-fired EGUs. That would likely make them less competitive with comparable plants in neighboring states and as such drive investment in natural gas electric generation to other states.
"This legislation is as much about separation of powers as it is about climate policy. One of the key components of RGGI is a tax on carbon emissions. The power to tax is a function of the legislative branch, not the executive branch," said Senator Pittman. "Regardless of anyone's position on climate policy, it is a dangerous precedent to assume the Governor can unilaterally impose a tax. A carbon tax is a major energy and fiscal policy initiative. Beyond the fiscal impact on Pennsylvania manufacturers, coal and gas electric generation, consumers, and future economic investments made in our state, it also creates serious constitutional questions of checks and balances between the co-equal branches of government."
Click for video and audio of Senator Pittman's comments at the press conference.
Click for video and audio of Senator Yaw's comments at the press conference.
Click for video and audio of Senator Argall's comments at the press conference.
Click here to view the entire press conference.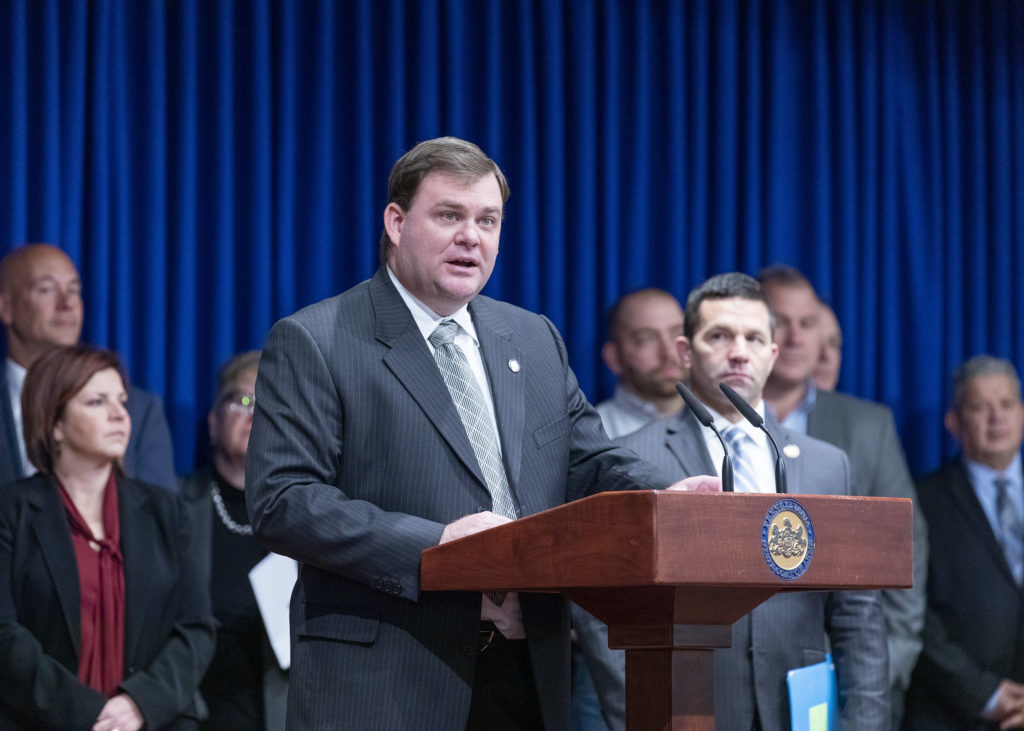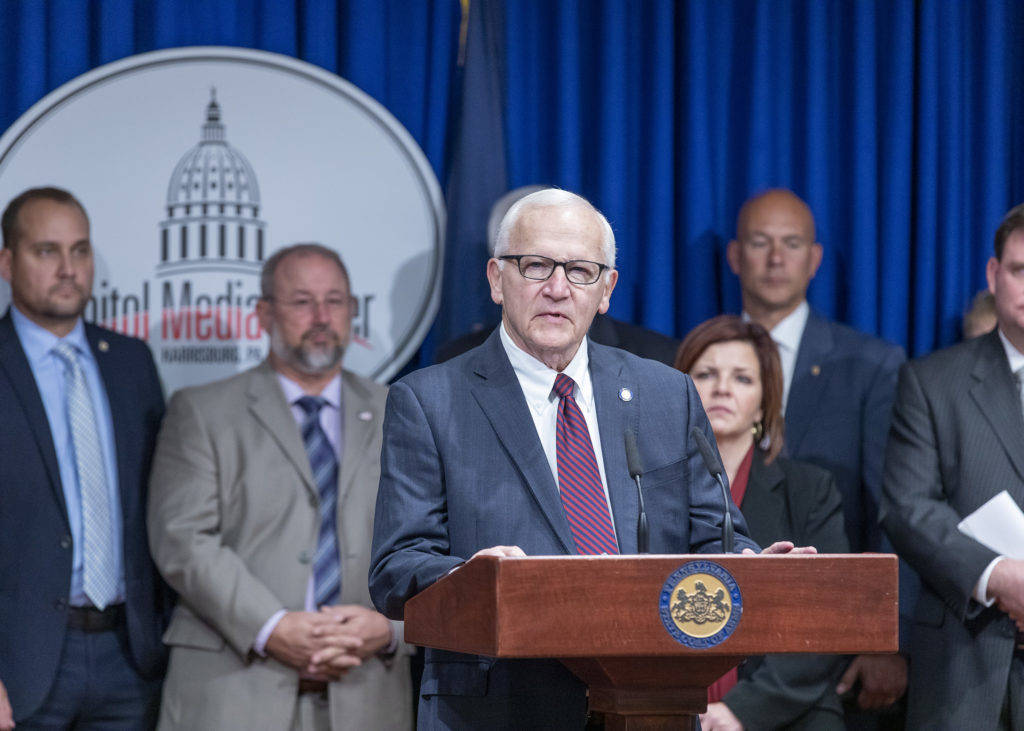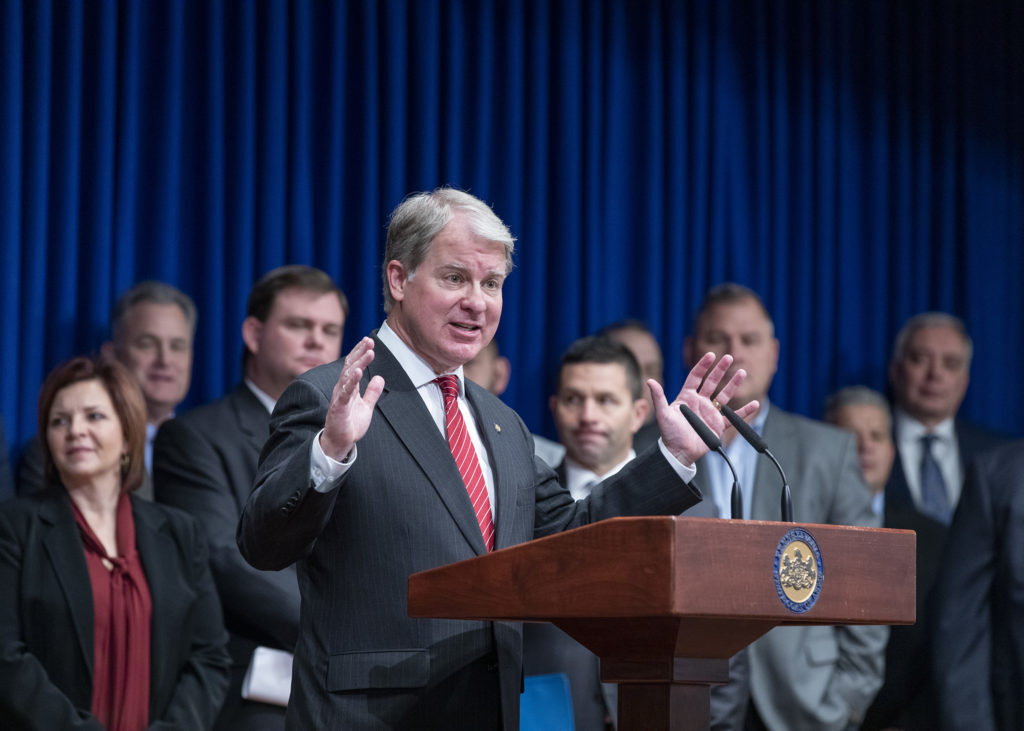 Contact:
(Senator Pittman) Carlton Logue clogue@pasen.gov (717) 787-8724
(Senator Yaw) Nick Troutman ntroutman@pasen.gov (717) 787-3280
(Senator Argall) Jim Brugger jbrugger@pasen.gov (717) 787-2637