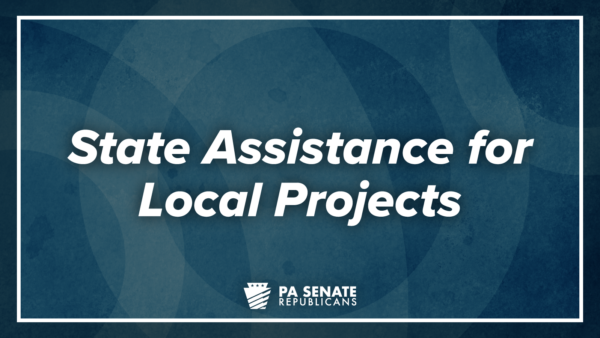 HARRISBURG – Sen. Joe Pittman (R-41) and Reps. Abby Major (R-60) and Donna Oberlander (R-63) announced the Commonwealth Financing Authority (CFA) has awarded nearly $3.7 million of Local Share Account (LSA) grants to municipalities for projects in Armstrong County.
"At a time when many families and communities are feeling a strain from inflation, state investments play an even greater role in helping to strengthen our local region," Pittman said. "I'm glad to have worked with my fellow elected officials to help secure this funding, which will ensure numerous municipalities are able to continue to advance projects for the benefit of area residents."
"These projects will make a difference in our communities," Major added. "Each addresses a critical need in order to protect citizens or provide important services. While these projects have been in the pipeline for a while, due to delays by the Commonwealth Financing Authority, the money is just being released now."
"These projects will be a great benefit to residents and include enhancements to our parks, waterways and infrastructure," Oberlander said. "It is imperative that we invest in communities that make up the 63rd District because it will attract business growth and provide jobs. I support every effort possible to rejuvenate our area so it can be a place where people want to live, work, play and be educated."
Kittanning Borough is receiving $577,223 for a riverbank stabilization project in the borough's Riverfront Park.
A $460,000 grant was awarded to Wayne Township for the purchase a 24-acre parcel of land with two large equipment garages.
Perry Township will use a $400,000 grant for road resurfacing within the township, while Washington Township received a $276,400 grant to make improvements at its Washington Township Memorial Park.
The Mahoning Township Municipal Authority received two grants: $154,000 to replace the Route 66 water line, and $90,000 to replace the Beers Road water line.
Leechburg Borough was likewise awarded two grants: a $136,800 grant to rehabilitate its Campbell Avenue Park and Playground, and a $96,700 grant to make improvements to its Kiski Avenue Park.
A $139,005 grant will be used by Apollo Borough to purchase a dump truck and police vehicle, while Sugarcreek Township received a $110,000 grant for renovations to its Sugarcreek Community Park.
South Bethlehem Borough will use a $109,000 grant for a streetscape improvement project along Hamilton Street; West Franklin will make improvement to Valley View Road with an $85,000 grant; and a $41,650 grant will be used by Manor Township to rehabilitate the Hawk Hollow Bridge.
Westmoreland County Municipal Authority received the largest single amount of funding – $1,000,000 – for a lead service line replacement project that will take place within both Armstrong and Westmoreland Counties.
LSA funding was created by the PA Race Horse Development and Gaming Act (Act 71 of 2004), which provides for the distribution of gaming revenues through the CFA to support projects in the public interest within Pennsylvania. The grants were approved at the March 16, 2023, meeting in Harrisburg.
Contacts:
Kate Flessner (Sen. Pittman) kflessner@pasen.gov
Tracy Polovick (Rep. Major) Tpolovick@pahousegop.com
Rick Leiner (Rep. Oberlander) Rleiner@pahousegop.com