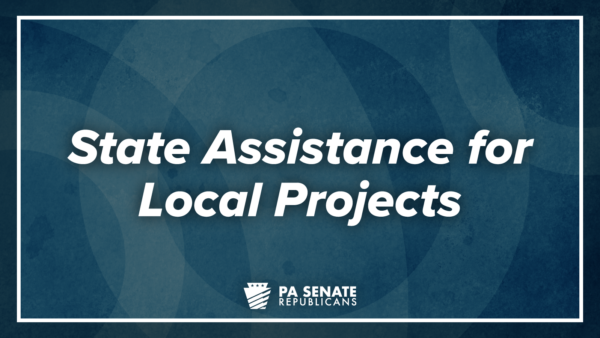 HARRISBURG – Sen. Joe Pittman (R-41), Sen. Kim Ward (R-39) and Rep. Jill Cooper (R-55) announced that a nearly $700,000 grant has been awarded by the Commonwealth Financing Authority (CFA) to boost the continuing efforts to develop the New Kensington Advanced Manufacturing Park located in the City of Arnold.
The $693,026 grant of Local Share Account (LSA) funds will be used by the Westmoreland County Industrial Development Corporation to improve the roadways within the New Kensington Advanced Manufacturing Park. Specifically, a new access roadway will be installed around existing building 225 and tie into the current access road system to improve overall access to the industrial park.
"This substantial state funding will ensure the continued improvement of the industrial park – which has become a major benefit to the city and local residents. I'm glad to have worked with my fellow elected officials to help secure this funding, which will further expand economic development by increasing access to the businesses that are there, as well as attracting new businesses," said Pittman.
"Community and economic development go hand-in-hand," Ward said. "The funding announced today for this project will help strengthen our local economy through job creation, advance our regional efforts to attract and grow businesses, while also improving the quality of life for our residents."
"Reinvestment into economic development projects like this is exactly the purpose of these funds," said Cooper. "Making this manufacturing park more viable translates to more family-sustaining careers and making our region an even better place to live, work and raise a family."
Several other grants were awarded for Westmoreland County projects in the 41st Senatorial District. Those investments include:
$419,593 for Vandergrift Borough, in cooperation with Casino Theater Restoration and Management, Inc., to continue the ongoing effort to restore and rehabilitate the more than 100-year-old historic Casino Theater & Library Building located in Vandergrift Borough;
$297,000 for West Wheatfield Township to expand the fire station located in Bolivar Borough;
$99,980 for Loyalhanna Township to purchase a backhoe;
$85,689 for Fairfield Township to purchase and outfit a new utility truck to replace the township's existing utility truck, which needs extensive repairs and has become cost prohibitive to fix;
$80,270 for New Kensington City to renovate the roofs of the city's Company No. 1 and Company No 5 fire stations;
$60,000 for Arnold City to purchase a dump truck and plow;
$58,500 for Derry Township to retrofit two stormwater management ponds within the Spring Crest Community residential development;
$51,076 for Upper Burrell Township to do a landslide mitigation project;
$35,000 for Derry Township, on behalf of the Derry Township Volunteer Fire Department, to purchase of two new inflatable river rescue boats;
$20,000 for Washington Township to purchase new equipment for the township's police vehicles;
$20,000 for Lower Burrell City to enhance the amenities of their city parks, including the replacement of the current wooden picnic tables at the park with more heavy-duty tables, the addition of a new sway bench and four new sturdy trash receptacles;
$15,214 for Allegheny Township, on behalf of the Markle Volunteer Fire Department, to purchase communication equipment to be used by the fire department;
$15,058 for Allegheny Township to purchase materials to make stormwater improvements along the township's Frederick Drive;
$15,000 for Vandergrift Borough to purchase a truck, snowplow and salt spreader for use by the borough;
$12,041 for Arnold City to make renovations to City Hall;
$11,830 for New Kensington City to purchase radar speed signs for use in within the city;
$10,000 for Vandergrift Borough, on behalf of George G. McMurtry Fire Department Vandergrift 1, to purchase 25 pagers that will allow the Westmoreland County 911 dispatch center to alert fire department members 24 hours a day;
$10,000 for Loyalhanna Township to purchase a skid steer loader;
$6,250 for Washington Township to make upgrades to Elbert N. Kunkle Park;
$3,000 for Oklahoma Borough to purchase and install new street signs within the borough; and
$2,850 for Vandergrift Borough to purchase a license plate reader for the borough police department.
LSA funding was created by the PA Race Horse Development and Gaming Act (Act 71 of 2004), which provides for the distribution of gaming revenues through the CFA to support projects in the public interest within Pennsylvania. The grants were approved at the March 16, 2023, meeting in Harrisburg.
Contacts:
Kate Flessner (Sen. Pittman) kflessner@pasen.gov
Erica Clayton Wright (Sen. Ward) ewright@pasen.gov
Jordan Frei (Rep. Cooper) jfrei@pahousegop.com