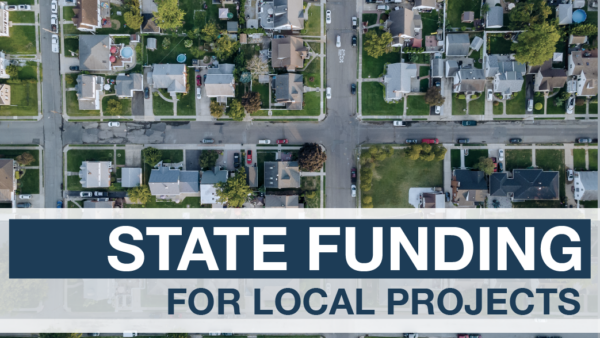 HARRISBURG –The Pennsylvania Infrastructure Investment Authority (PENNVEST) has awarded more than $8.5 million in grants to make needed wastewater treatment improvements for two projects in Armstrong and Indiana Counties, according to Sen. Joe Pittman (R-41), Rep. Abby Major (R-60), Rep. Brian Smith (R-66) and Rep. Jim Struzzi (R-62).
"I commend local leaders for undertaking these important projects," Pittman said. "Water systems are extremely vital to the health of a community, but very expensive to build and maintain. I'm very pleased these substantial grants were approved by PENNVEST and will provide support for critical improvements. The funding will certainly be a central part of helping to safeguard our local water supplies and protect public health."
In Armstrong County, East Franklin Township is being awarded a $1,771,562.00 grant for the Fox Hollow Sewer Extension Project. As part of a Corrective Action Plan with the Department of Environmental Protection, the Township will construct a new sanitary sewer line extension, approximately 7,000 feet, along Toy, Booher, and Claypoole (State Route 3009) Roads. The existing collection system will be connected to the West Hills Area Water Pollution Control Authority system, serving portions of Applewold and West Kittanning Boroughs, and North Buffalo and East Franklin Townships.
Following this connection, the Fox Hollow plant will be demolished. Four properties along the proposed extension route with existing onlot septic systems will also be connected to the public sewer system. The Township currently serves 247 customers across its four satellite systems.
"I'm pleased to see this important project funded without creating a significant financial burden on residents," Major said. "Not only will this connect the community to a reliable wastewater collection system, but it will also move four households from onlot septic systems to a public system. With the Allegheny River so close by, it is important that there are no discharges of sewage which can have significant environmental impacts not just in Armstrong County but also downstream."
In Indiana County, the Indiana County Municipal Services Authority is being awarded a $6,820,650.00 grant for the Water Renovation 21 project. Numerous upgrades will be made to the water treatment and distribution systems within Creekside Borough and Rayne, Washington, and White Townships. At the primary work site, Crooked Creek Water Treatment Plant, a new 35-foot diameter clarifier will be installed along the raw water intake line.
The second portion of work includes 1,200 feet of eight-inch waterline to provide an emergency interconnection with the Clymer Borough Municipal Authority drinking water system. The extension will further upgrade a meter vault and directly improve water distribution in a residential and commercial area of White Township. During the third stage of the project, approximately 35,000 feet of waterline will be installed along Skyline Drive and Tanoma Road in Rayne Township, as well as Indiana Street and Midd Street within Creekside Borough and Washington Township. A community cistern currently serving six residential properties will be decommissioned. The Authority serves approximately 5,620 residential customers.
"The funding is necessary to ensure the continued good health of residents and businesses and satisfy violations raised by the Pennsylvania Department of Environmental Protection," Smith said. "It is nice to see our state and local governments working together to better our communities."
"I was glad to advocate for this funding, which will help the authority make necessary improvements to its systems and continue to deliver quality service to community residents," Struzzi said.
PENNVEST financing is provided through the use of federal funding and prior bond issues by the state, as well as proceeds from the Marcellus Shale Impact Fee legislation, Act 13 of 2012.
Media Contacts:
Kate Eckhart Flessner (Sen. Pittman)
Tracy Polovick (Rep. Major)
Rick Leiner (Rep. Smith)
Tricia Lehman (Rep. Struzzi)