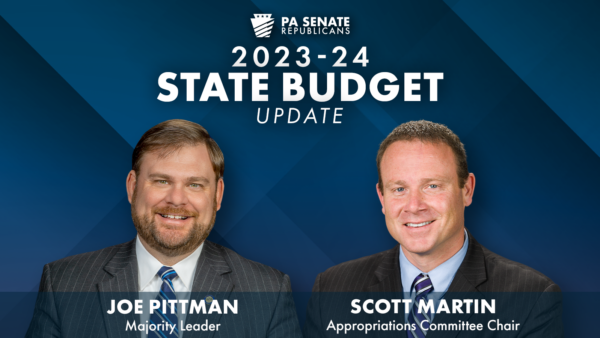 HARRISBURG – To prevent disruptions to the many critical services Pennsylvanians rely on every day, the Senate reconvened on Thursday to send the 2023-24 General Appropriations Bill to Governor Shapiro for enactment into law, according to Senate Majority Leader Joe Pittman (R-41) and Senate Appropriations Committee Chair Scott Martin (R-13), who held a media availability at the conclusion of session.
The $45.45 billion budget spends approximately $400 million less than what Gov. Josh Shapiro proposed in March.
"Today is a good day for Pennsylvania taxpayers because we have ensured certain programs and initiatives will not be funded without further action by the General Assembly," Pittman said. "The General Appropriations Bill advanced by the Senate is a significant part of our overall budget process, but it needs to be emphasized that is it one piece of a multipiece puzzle to put a comprehensive budget in place for our commonwealth."
"Today's action will ensure critical state funding can be distributed to counties, schools, service providers and other key programs throughout the state," Martin said. "Our goal remains to complete a fiscally responsible budget without creating disruptions in the lives of the people we represent."
Additional Information on the 2023-2024 State Budget
Although the Senate's action ensures the overwhelming majority of services are funded, certain programs will still require enabling language before funding can be released. Nearly $1.1 billion of the General Appropriations Budget requires implementation language.
Secretary of the Budget Uri Monson has provided a memo clearly stating the following budget initiatives require enabling language:
Environmental School Facilities
Educational Improvement Tax Credit Increases
Rainy Day Transfer Amount
Absent legislative language the Budget Secretary will not be releasing funding for certain programs, including:
Covid-Relief-ARPA-School Mental Health Grants
Criminal Indigent Defense
Emergency Medical Services Rate Increase
Hospital and Health System Emergency Relief
Level Up Supplement
Teacher Stipends
Whole Home Repair
In addition, the 2023-24 General Appropriation Act splits the Basic Education Funding appropriation, which had historically funded both Basic Education and School District Social Security payments, into two separate appropriations. The first appropriation is nearly $7.9 billion for Basic Education Funding, an increase of $567 million from last year's budget. The second appropriation for School District Social Security payments in the amount of $621.8 million, is an increase of $27 million from last year's budget. The formula in current law requires School District Social Security payments to be made from the single Basic Education Funding appropriation. Absent a change to the current formula through a code bill, there will be insufficient funds to fully provide Basic Education and Social Security payments because School District Social Security payments are required to be paid from the Basic Education Funding appropriation under current law.
With the recent resignation of a member of the House, their chamber now stands deadlocked, with an even number of republicans and democrats. Having a chamber with a 101 to 101 split makes it very hard to see how some of these important pieces of legislation can be advanced until the vacancy in the House is filled again.
The Senate stands ready to return to session and complete the steps necessary to bring this year's budget to a close as soon as possible.
Media Contacts:
Kate Eckhart Flessner (Senator Pittman)
Jason Thompson (Senator Martin)