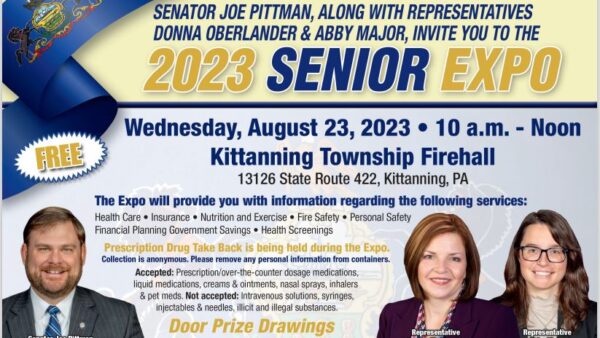 HARRISBURG – Sen. Joe Pittman (R-41) and State Representatives Donna Oberlander (R-63) and Abby Major (R-60) will co-host a Senior Expo on Wednesday, Aug. 23, from 10 a.m. to 12 p.m., at the Kittanning Township Volunteer Fire Department, 13126 State Route 422, Kittanning.
A number of local organizations and businesses, health associations as well as state and federal agencies will be participating in this free event.
Representatives will provide information on numerous subjects of interest to older residents including health care, insurance, nutrition and exercise, fire safety, financial planning, government savings and personal safety.
A free prescription drug disposal service will be available for those wishing to safely get rid of unneeded prescription/over the counter medications, liquid medications, creams and ointments, nasal sprays, inhalers and pet medications. Intravenous solutions, syringes, injectables and needles, illicit and illegal substances will not be accepted.
Participants can receive health screenings and will be eligible for door prizes.
For more information, please call Sen. Pittman's Kittanning District Office at (724) 543-3026.
Contact: Holly Perry (724) 543-3026