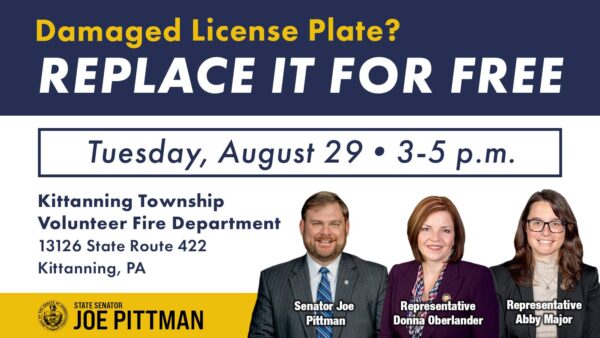 HARRISBURG – Sen. Joe Pittman (R-41) and Reps. Donna Oberlander (R-63) and Abby Major (R-60) will co-host a free illegible license plate event from 3 p.m. to 5 p.m. on Tuesday, Aug. 29 at the Kittanning Township Volunteer Fire Department, 13126 State Route 422, Kittanning.
Your license plate should be replaced if it has one or more numbers or letters that cannot be recognized from 50 feet away or if the license plate is blistered, peeling, discolored or lost its reflectivity.
During this free event, the police will determine if the plate is illegible. If so, we will help drivers fill out the appropriate paperwork. A new standard replacement plate should arrive at the vehicle owner's home address in a few weeks.
For more information, please call Sen. Pittman's Kittanning District Office at (724) 543-3026.
Contact: Holly Perry (724) 543-3026