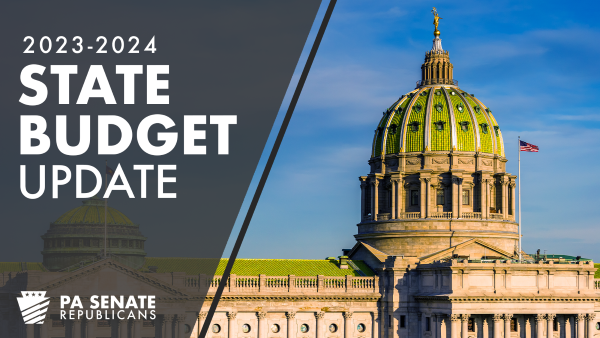 HARRISBURG – Senate President Pro Tempore Kim Ward (R-39), Senate Majority Leader Joe Pittman (R-41) and Senate Appropriations Committee Scott Martin (R-13) highlighted today's advancement of legislation to further finalize portions of the state budget which require implementation language.
The Senate advanced two bills to implement key parts of the 2023-24 budget and drive out funding to schools, hospitals, EMS providers, higher education, libraries and more. There is no reason the people of Pennsylvania should be kept waiting on further implementation of the state budget.
"The Senate has done their best to give Gov. Shapiro and his counterparts in the House the necessary time to work through their party challenges, but the time has come that we must move beyond the broken deals and words and complete our work to ensure the fiscal solvency of our state," Ward said. "With today's action by the Senate, it is imperative that the House return quickly to session to complete the work of the people they represent even if to provide a counteroffer to what has been passed. Senate Republicans will continue to negotiate in good faith and in the best interest of Pennsylvanians."
"Today the Senate has written another chapter in the budget story – one which will help all communities throughout our commonwealth," Pittman said. "While this implementation legislation does not fully finalize the 2023-24 state budget, it takes a significant step to move Pennsylvania forward. It is time we talk about what we can do as a divided government and not what we can't do. We must show that we can move forward with the most basic parameters that make our government function. I implore the House to come back and work with us to solve real problems for the people of Pennsylvania."
"The people who sent us to Harrisburg expect us to work together to meet the needs of our communities," Martin said. "Our priority today was to move the budget process forward and advance the funding our constituents urgently need. As negotiations continue in the weeks ahead, we welcome our colleagues in the House of Representatives to join us in coming back to session immediately to complete the 2023-24 budget. We cannot let politics stand in the way of doing the right thing for Pennsylvanians."
House Bill 1300, advanced by a bipartisan vote, reauthorizes assessments and payments to hospitals, boosts reimbursement rates for EMS providers, and reauthorizes judicial fees that courts rely on for funding. All three of these budget items are important and time-sensitive.
In addition, the bill directs funding to many non-controversial and bipartisan budget items related to education, including:
Providing for a two-year tuition freeze for PASSHE schools.
Allocating more than $260 million for community colleges.
Distributing more than $70 million in state aid for libraries.
Allocating more than $76 million for special education funding for Intermediate Units.
Reimbursing schools for providing free breakfasts for all students ($46.5 million).
Transferring more than $8.5 million to maintain current PHEAA grant levels.
Distributing $11 million in grants for non-public school safety initiatives.
House Bill 1300 also distributes $150 million for the state's Clean Streams Fund to address agricultural conservation, nutrient management, clean water procurement and stormwater management.
The bill also allocates $16 million in medical assistance incentive payments and changes how nursing home reimbursements are calculated to prevent dramatic swings that could force many providers to cease operations.
The Senate also voted to advance Senate Bill 757, which addresses other priorities included in the original budget deal Senate Republicans negotiated with Gov. Josh Shapiro in June.
This includes the creation of the Pennsylvania Award for Student Success (PASS) program to provide additional educational options for students in failing schools, as well as $150 million in new funding for the state's popular Educational Improvement Tax Credit program to expand educational opportunities to families throughout the state.
Senate Republicans underscored that while these bills have been advanced by the Senate today, critical support authorized by the legislation cannot be finalized until the House of Representatives also returns to session.
VIDEO: Senator Pittman remarks
VIDEO: Senator Martin remarks
CONTACT
Erica Clayton Wright (Senator Ward)
Kate Eckhart Flessner (Senator Pittman)
Jason Thompson (Senator Martin)