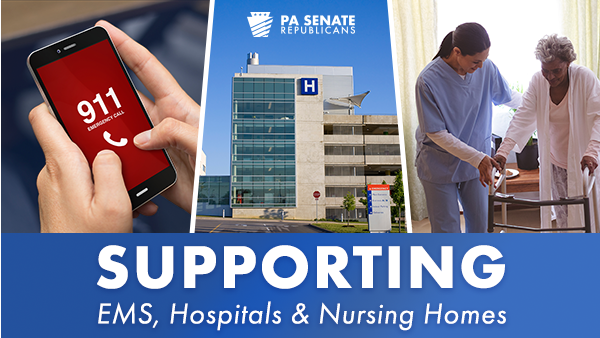 HARRISBURG – Recognizing the challenges health care providers face and the importance of meeting these needs immediately, the Senate has unanimously passed House Bill 1351, to ensure residents across Pennsylvania continue to receive access to needed health care services, according to Senate President Pro Tempore Kim Ward (R-39), Senate Majority Leader Joe Pittman (R-41) and Senate Appropriations Committee Chair Scott Martin (R-13).
"Ensuring funding for nursing homes, hospitals and EMS services is a top priority to keep the people we serve safe. Retooling this legislation will help us address our most pressing health care matters as we continue to address our Commonwealth's unfinished budget."
– Senate President Pro Tempore Kim Ward (R-39)
"The Senate Republican Caucus continues to be focused on solving real issues facing Pennsylvanians throughout every corner of our commonwealth, which is why we have advanced three very important public health components of the budget process. We have worked to ensure EMS has the resources they need to hire and train individuals so whenever someone calls 911, their call is answered, and help is provided. We are also making sure Pennsylvania receives federal dollars for our statewide hospital system, and our nursing home community has certainty and stability as it relates to nursing home reimbursement rates. The enactment of this code language to support public health needs across our commonwealth is a crucial part of working to finalize the state budget and I am hopeful it will also receive widespread support in the House."
– Senate Majority Leader Joe Pittman (R-41)
"While there are still significant issues that need to be ironed out to fully implement the budget, we cannot allow our partisan differences to hurt health care providers and patients throughout the state. There will be serious consequences for our communities if we do not complete our work on these key priorities quickly. I am optimistic that our counterparts in the House of Representatives will recognize the urgency of protecting our hospitals, nursing homes and EMS providers and will take swift action to get this bill to the Governor's desk immediately."
– Senate Appropriations Committee Chair Scott Martin (R-13)
House Bill 1351 addresses the crucial public health needs for Emergency Medical Services, Hospital Assessments and Nursing Homes.
EMS Reimbursements
EMS systems throughout the Commonwealth currently face extremely serious financial and workforce challenges. The Code amendments address the needs of the EMS community by increasing reimbursement rates for services and ensuring providers are compensated for all loaded miles. These changes will drive $63.1 million of new revenue and new resources into the EMS network statewide beginning January 1 through the end of the 2023-24 Fiscal Year (or $126.2 million on a full-year basis).
Hospital Assessments
Every five years we need to reauthorize a state tax that is imposed on hospital services. When Pennsylvania enacts appropriate hospital assessment language, the federal government matches a portion of the revenue, allowing some of the funds collected by the state to be returned to hospitals. Without legislative authorization, the state cannot collect this tax and will not have the required state funds to make payments to hospitals. The first payment to hospitals is typically made in mid-October.
Nursing Facility Case Mix Rate
For the current fiscal year, Medicaid reimbursement rates for nursing homes are calculated partially based on costs incurred to meet COVID-19 mandates. This has created a circumstance in which approximately 70 nursing homes are losing an average of $19 a day for more than 4,000 patients statewide.
Freezing the rate at the previous year's level will help reduce volatility and level the playing field so these facilities can continue to meet the needs of vulnerable patients. Every day that these rates persist, more and more nursing facilities risk closure.
MEDIA CONTACTS:
Erica Clayton Wright (Sen. Ward) ewright@pasen.gov
Kate Eckhart Flessner (Sen. Pittman) kflessner@pasen.gov
Jason Thompson (Sen. Martin) jthompson@pasen.gov