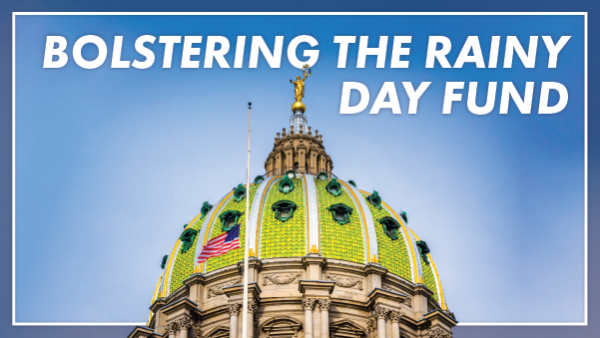 HARRISBURG – Senate President Pro Tempore Kim Ward (R-39), Senate Majority Leader Joe Pittman (R-41) and Senate Appropriations Chair Scott Martin (R-13) applauded the transfer of nearly $900 million to the state's Rainy Day Fund today that will help strengthen Pennsylvania's financial position in the years ahead.
The transfer of $898,318,962 is the third-largest in Pennsylvania's history. The amount of the transfer was based on existing law that mandates 10 percent of any budget surplus be transferred to the Rainy Day Fund.
"Today's $900 million transfer to the Rainy Day Fund is a direct result of the Senate and House Republicans disciplined spending approach throughout the past several budget cycles," Ward said. "More importantly, it demonstrates that Republicans words and actions are aligned to position our state for fiscal solvency, which is a value that has been missing during our current and unfinished budget discussions."
Rainy Day Fund transfers in the two previous Fiscal Years of $2.1 billion (2022-23) and $2.6 billion (2021-22) have helped bring Pennsylvania's budgetary reserves from one of the worst states in the country to slightly above the national median.
In 2018, Pennsylvania's Rainy Day Fund was less than $500,000, holding only enough money to fund state government operations for a few hours.
Thanks to the strong leadership and advocacy of Senate Republicans over the past several years, the fund now exceeds $6.1 billion, providing a strong hedge against any economic downturn or other unforeseen circumstances.
"I am pleased the Senate unanimously passed legislation last week to codify the existing definition of 'surplus', taking a step forward to enable this transfer to be made," Pittman said. "Respecting taxpayers and working to achieve fiscal responsibility for our state have always been a primary focus for the Senate Republican Caucus. We have fought, and we will continue to fight, to keep spending under control and to plan for the future. I commend Treasurer Garrity for her work to make sure the appropriate funding amount is being transferred."
Pennsylvania's strong reserves and sound budget management have drawn the attention of the nation's major credit rating bureaus. Moody's Financial Services and S&P Global Ratings both affirmed the commonwealth's current bond rating and revised the state's long-term outlook from "Stable" to "Positive" in September.
"Taxpayers expect us to manage their money responsibly, and that is exactly what Senate Republicans are working to accomplish. To put it as simply as possible, we would not be in this position without the fierce advocacy of Senate Republicans," Martin said. "Today's transfer builds on the tremendous success we have seen in recent years of budgeting conservatively with an eye toward achieving long-term financial stability."
CONTACT: (Sen. Ward) Erica Clayton Wright
(Sen. Pittman) Kate Flessner
(Sen. Martin) Jason Thompson