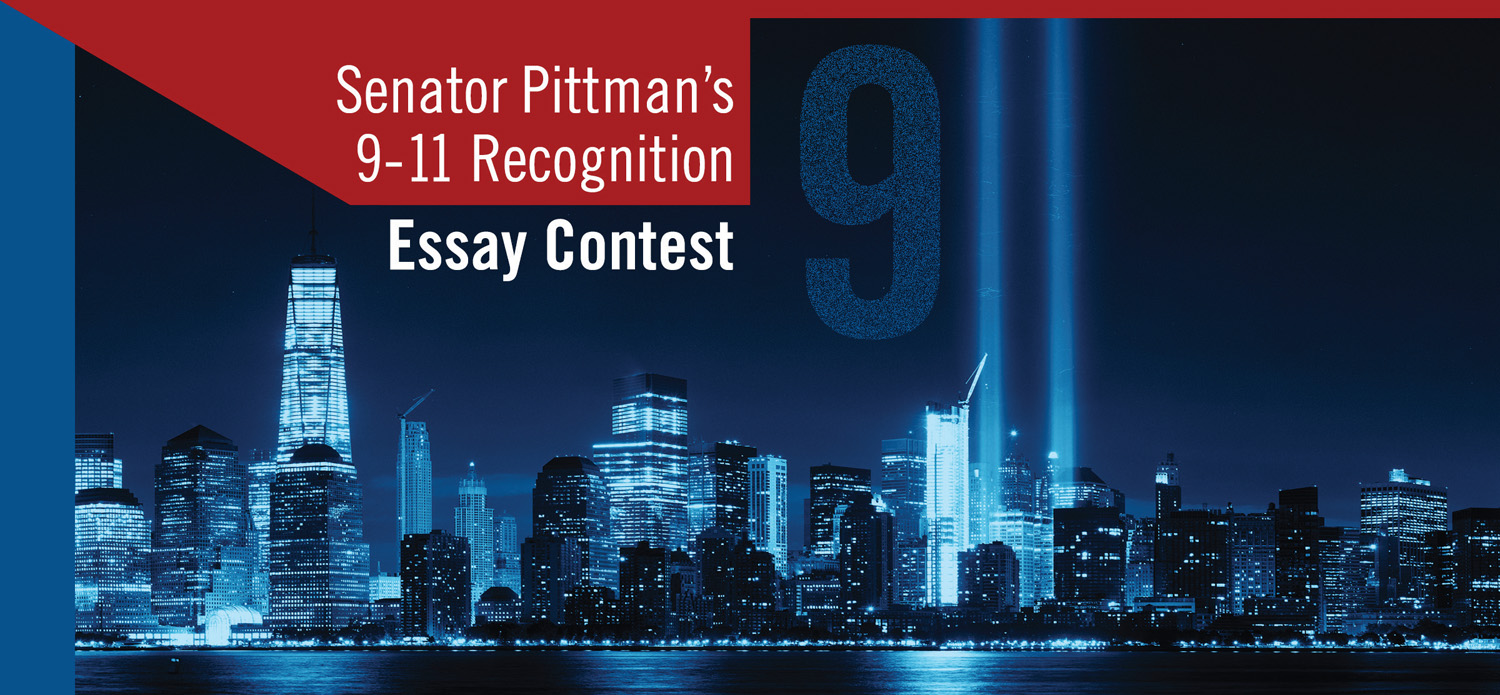 September 11, 2021 marks the 20th anniversary of the terrorist attacks on America. Each year we pause to reflect and remember the thousands of people who were killed that day and how our country was forever changed. We recall not only the sorrow but also the dedication, strength and commitment of those who responded to the tragic events.
To ensure that today's generation recognize and honor those we lost, Senator Pittman is sponsoring an Essay Contest for 9th & 10th graders in the 41st Senatorial District. Therefore, your original essay must address why…We must never forget. The essay should be no more than 750 words and discuss what September 11th means to our community. The winning essay will receive a trip to the Capitol, tour & lunch with Senator Pittman.
Entries:
The contest is open to Pennsylvania students in both 9th grade and 10th grade.
Contest Rules:
The goal is to increase the awareness of the historic date of September 11th and bring attention to the significance of the event on its 20th anniversary. Therefore, your original essay must address why we must never forget.
Students may submit one essay of no more than 750 words.
Students must be identified by first and last name on the official registration form.
Content must be original and may only contain copyrighted content if appropriately cited.
Entrants must credit all sources used on a citation list.
All students must be enrolled in the 9th or 10th grade in a school located in the 41st district in Pennsylvania.
All entries become the property of the Pennsylvania Senate. Entrants agree that submitting their essay permits the Pennsylvania Senate to use, without any compensation, their names, likenesses and entries for promotional purposes. By submitting an entry, entrants represent that their entries constitute original works of creativity that do not violate the property rights of any other person or organization, and grant the Pennsylvania Senate the right to exhibit, distribute, televise and otherwise use the entries in various media.
Contest Awards:
A trip to the capitol, tour & lunch with Senator Pittman.
Judging Criteria:
Creativity
Content
Effectiveness of message delivery
Did you follow directions?
Entries will be judged by an independent panel of judges and will not include any Pennsylvania senators. Immediate relatives of senators and their staff are ineligible to participate. Judges will be announced closer to the competition deadline. Deadline for entry is Friday, November 19, 2021.
Senator Pittman September 11 Essay Contest