In this Update:
Big 33 Classic Football Celebration
Over $9 Million in State Grants Awarded Throughout the 41

st

Senatorial District
Westmoreland County Association of Township Supervisors
Armstrong County Memorial Hospital – Laube Cancer Center
Town Hall Meeting
Budget Hearings Begin March 20
Examining Government Cloud-Based Cybersecurity
DMVA Mobile Outreach Vans to Serve Vets
PennDOT Invites Public Feedback on Transportation
---
Big 33 Classic Football Celebration
Last week at the Capitol we recognized Big 33 Football Classic players, cheerleaders, buddies and coaches, who are involved in the 2023 Big 33 football game! The game has been described as the "Super Bowl of High School Football" and has chosen a team every year since 1957. Every NFL Super Bowl has featured at least one Big 33 Alum.
It was great to see so many talented and driven young athletes in Harrisburg for the celebration. Thank you to Caden Olsen, and his parents, Ryan and Julie Olsen, for stopping by my office. Caden is a part of this year's team and is a senior quarterback from Armstrong Junior-Senior High School. In the Fall, Caden will be attending the University of Pennsylvania and will be a member of their football team. Congratulations Caden!
Tickets Are Now On Sale For the 66th Annual Big 33 Football Classic on May 28th https://big-33.ticketleap.com/23-psfca-big-33-football…/
Over $9 Million in State Grants Awarded Throughout the 41
st

Senatorial District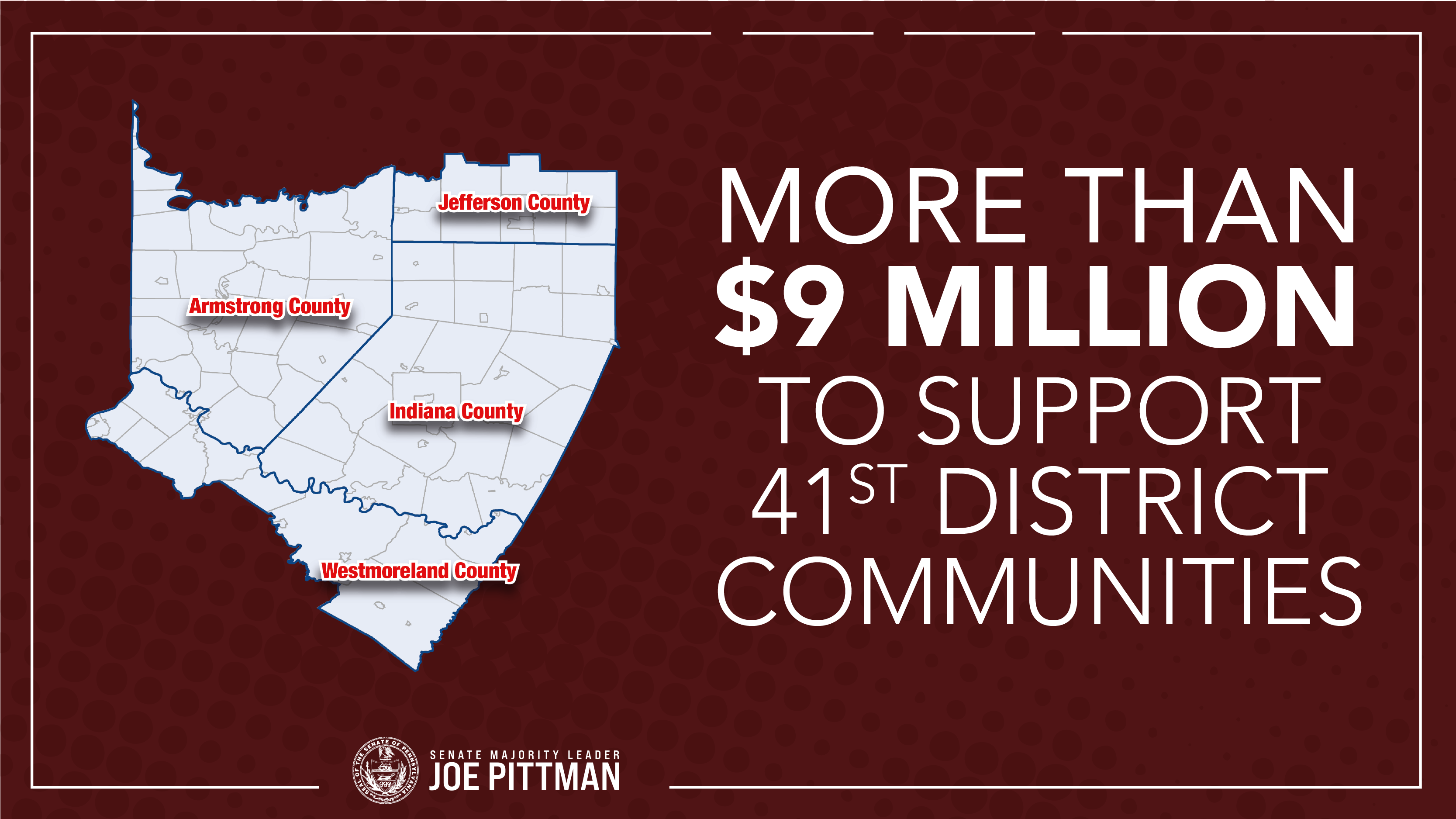 On Thursday, the Commonwealth Financing Authority (CFA) approved numerous grants totaling $9,300,000 for municipal projects and purchases within the 41st Senatorial District. At a time when many families and communities are feeling a strain from inflation, state investments play an even greater role in helping to strengthen our local region. I'm glad to have worked with my fellow elected officials to help secure this funding, which will ensure the advancement of significant projects for the benefit of residents throughout Armstrong, Indiana, Jefferson and Westmoreland Counties.
For a breakdown of projects across each of the four counties, check out these press releases:
Westmoreland County Association of Township Supervisors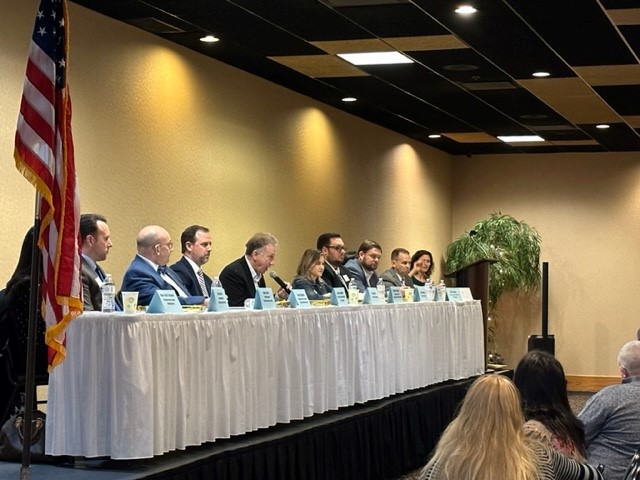 I was pleased to participate in the legislative roundtable portion of the 112th Annual Convention of the Westmoreland County Association of Township Supervisors held last Friday.
It was good to see many familiar faces and a few new folks as well. I appreciated the thoughtful dialogue about area priorities, and the perspectives on how we can better help our local communities. Thank you for inviting me to take part in this important discussion!
Armstrong County Memorial Hospital – Laube Cancer Center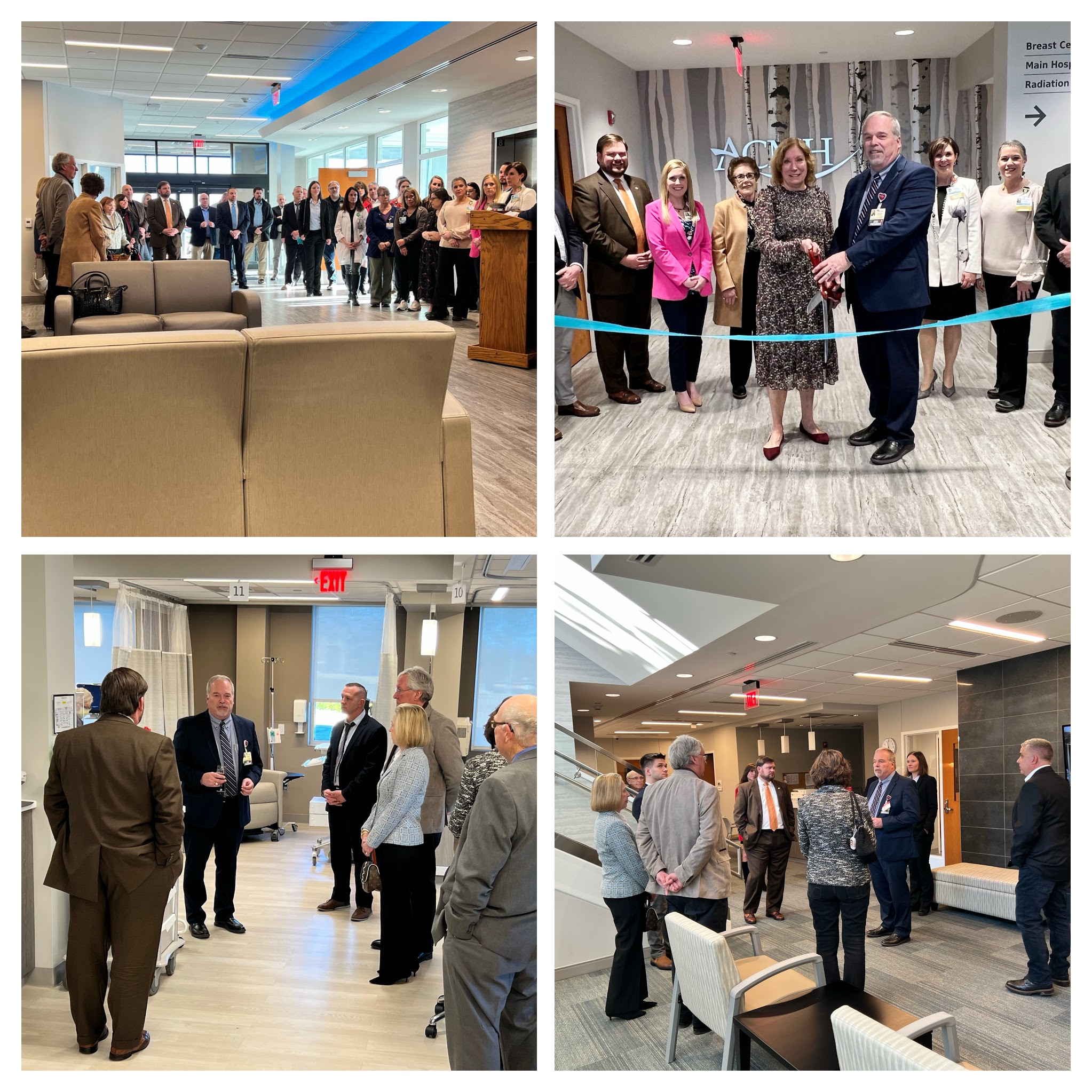 I was honored to attend the Armstrong County Memorial Hospital (ACMH) ribbon cutting ceremony, to recognize the opening of the newly renovated Laube Cancer Center. A $1.5 million state Redevelopment Assistance Capital Program (RACP) grant was originally secured for the project, followed by an additional $500,000 in RACP funding. I was pleased to advocate for these significant investments, to help protect and improve the health and well-being of our residents in Armstrong County.
Both efforts were started by my friend and colleague, the late Rep. Jeff Pyle. While Jeff isn't here to see the Cancer Center renovations come to fruition, this is just a small part of the inspiring legacy he has left for us all.
Town Hall Meeting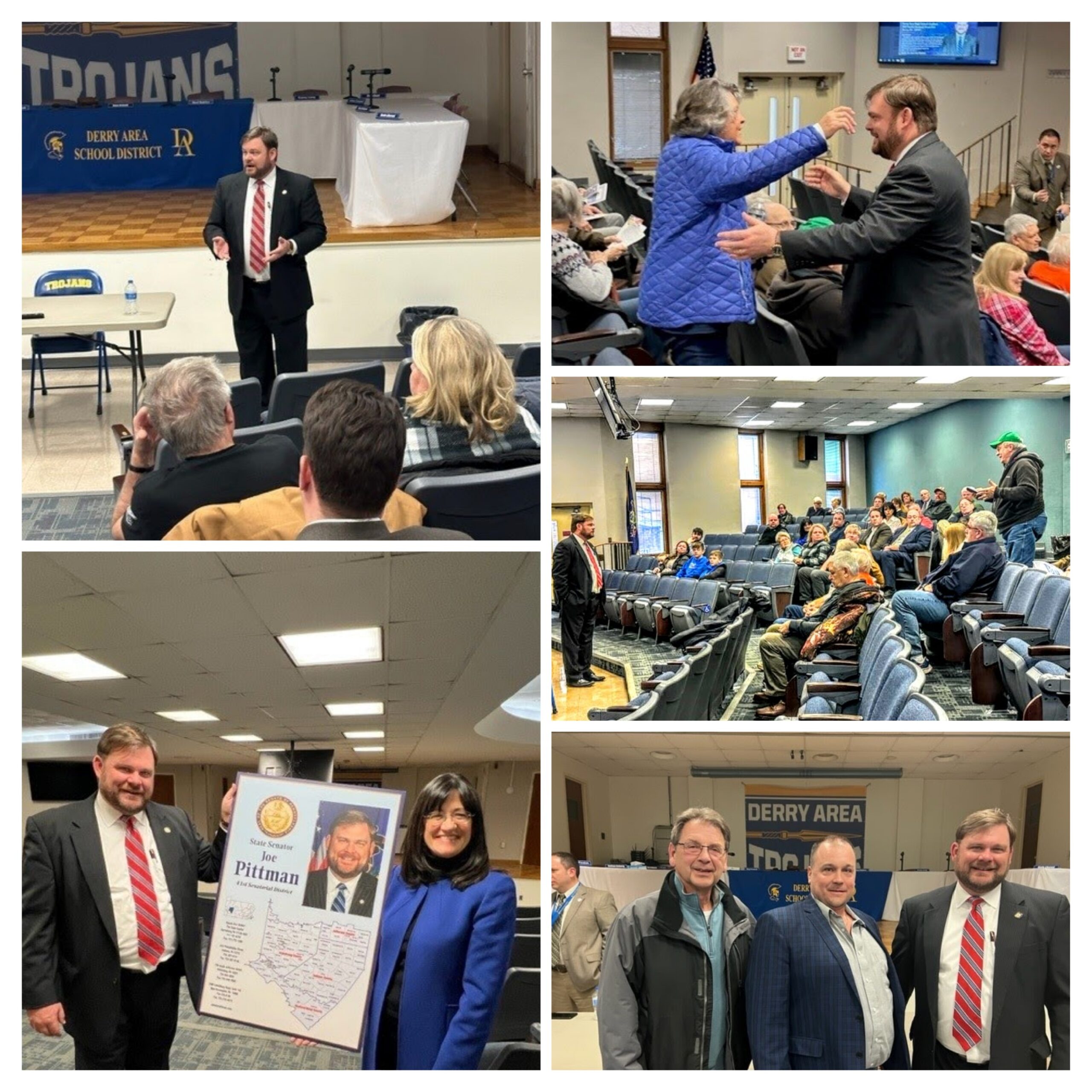 Thank you to those who participated in my Town Hall meeting Tuesday evening in Derry Township, Westmoreland County. I greatly valued hearing your concerns and thoughts on various issues that are impacting our community and our state. The opportunity to engage in conversations like this, provides important perspective as we work to strengthen Pennsylvania.
A special thanks to Derry Area School District and Superintendent, Greg Ferenchak, for the hospitality and use of their auditorium. I appreciated PA State Rep. Jill Cooper Westmoreland County Commissioners, Doug Chew and Sean Kertes and Derry Township Supervisors Slifka, Prohaska and Kepple, taking the time to attend. I was also thrilled to have my Aunt Bonnie there as well – she lives in the Township and is one of my new constituents!
Budget Hearings Begin March 20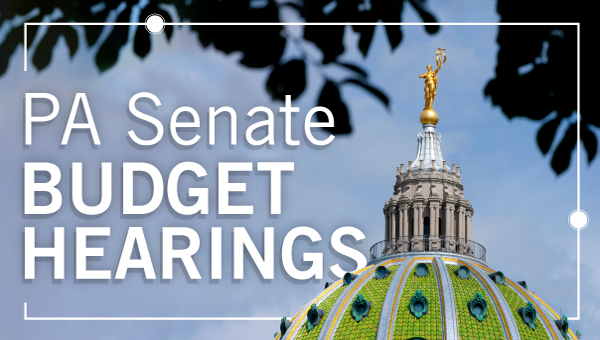 Three weeks of budget hearings held by the Senate Appropriations Committee will begin next week with appearances by the Department of Revenue, Independent Fiscal Office, Department of Conservation and Natural Resources, State Treasurer, Department of Environmental Protection, Auditor General and Office of Attorney General.
The hearings will be used to review Gov. Josh Shapiro's spending plan and ask administration officials about the need for any proposed expenses. From there, a budget that more appropriately reflects the needs of taxpayers can be developed. Regardless of how long it may take to come to an agreement, the final budget will respect taxpayers, protect jobs, and keep Pennsylvania on a prosperous path for future generations.
Livestreams of the hearings and daily recaps will be available here, and I will share updates on this important process each week.
Examining Government Cloud-Based Cybersecurity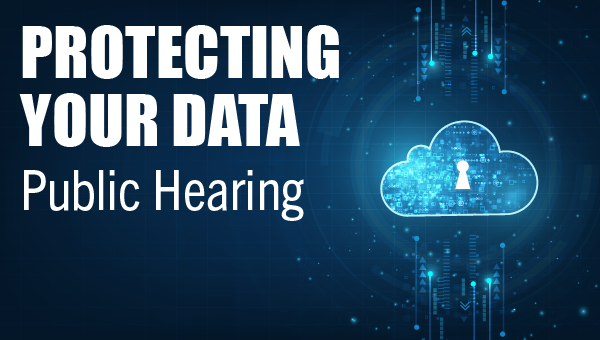 The Senate Communications and Technology Committee brought together information technology experts this week for a public hearing about securing cloud-based data held by state and local governments.
With cloud storage, digital data is stored on servers in off-site locations. The servers are maintained by a third-party provider responsible for hosting, managing and securing data. This data includes personally identifiable information such as tax records, unemployment claims, social security numbers, driver's licenses and more.
Testifiers said the threat to cybersecurity is constant. Pennsylvania's acting Chief Information Security Officer Christopher Dressler testified that, in a recent month, there were approximately 38 billion unauthorized attempts to connect to the state network. He said cloud computing presents cybersecurity benefits for the commonwealth, such as intrusion prevention, malware protection, identity and access controls and encryption. View video and written testimony from today's hearing here.
DMVA Mobile Outreach Vans to Serve Vets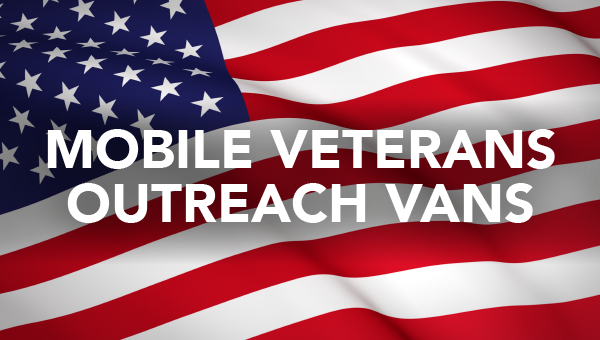 The Pennsylvania Department of Military and Veterans Affairs (DMVA) operates Mobile Veterans Outreach Vans to assist the state's more than 700,000 veterans. DMVA accredited veteran service officers travel the state to help veterans obtain information and initiate benefit claim paperwork.
There is a wide range of federal, state and county benefits available to qualified veterans and their families, and DMVA's team can be an excellent source of information and assistance. Such benefits include service-connected disability compensation, pensions, VA health care benefits, burial benefits, education benefits, vocational rehabilitation, active service bonuses and state nursing home care.
PennDOT Invites Public Feedback on Transportation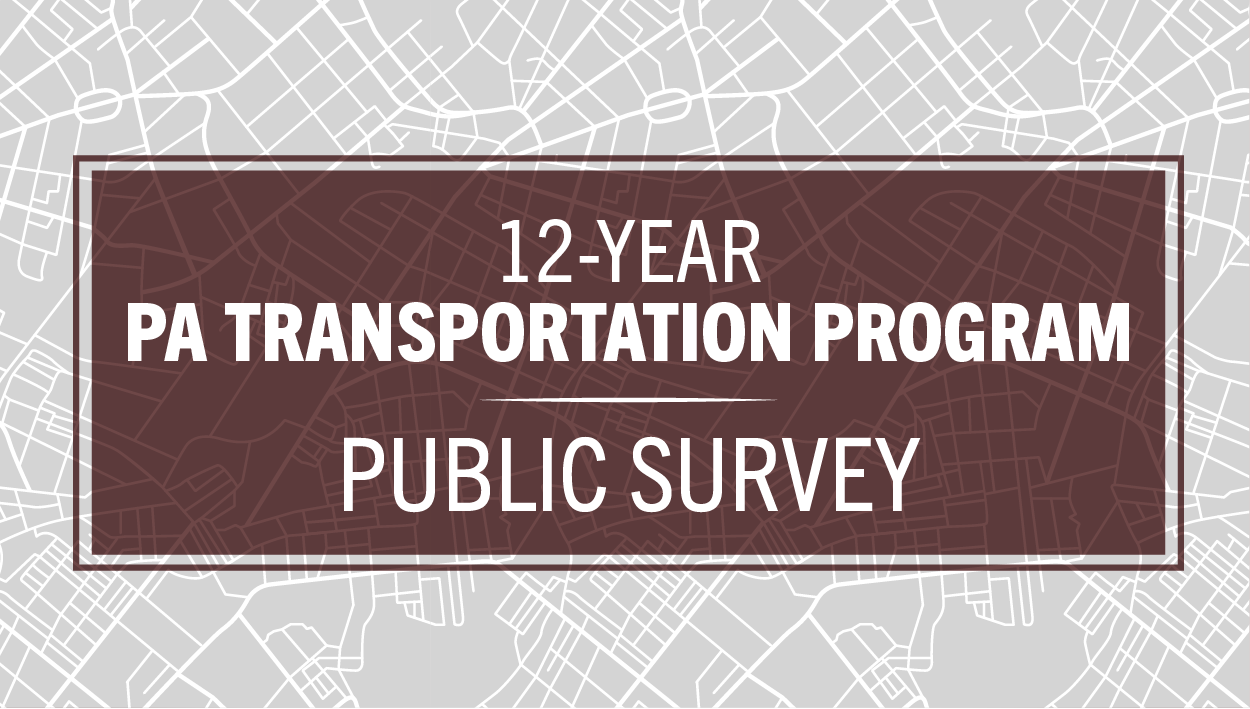 Pennsylvanians are encouraged to submit their feedback using this transportation survey or by emailing comments to RA-PennDOTSTC@pa.gov. Public feedback and survey results will help identify needs and prioritize transportation projects across the state.
PennDOT will also host an online public forum on Wednesday, April 12, from 6:30-8 p.m. Pennsylvanians can ask transportation-related questions to PennDOT leadership and members of the State Transportation Commission during the forum.
The feedback provided will be used to inform Pennsylvania's 12-Year Program, which is updated every two years. It is the first step in the state's transportation program planning process and helps to evaluate the system's performance and opportunities for progress. Learn more about how transportation projects are planned and funded.

If you are not already subscribed to this newsletter please sign up here.